Application Areas Of SPC Flooring
Introduction
Welcome to the amazing world of SPC Flooring, where fashion and function converge and adaptability rules supreme!
Finding the ideal flooring option might seem like an elusive task in today's ever-changing architectural world. But don't worry SPC Flooring is here to make you feel like a princess!
The several application areas where SPC Flooring shines like a star will be covered in depth in this article. SPC Flooring has got you covered, quite literally, whether you're remodeling an office space, your house, acing a hotel, or maximizing a commercial arena.
Prepare for an exhilarating journey into the slick and solid world of SPC Flooring. SPC is the hidden hero that softly exudes elegance and toughness, from the luxurious carpets of office director's cabins to the busy, high-traffic environment of retail malls.
So, buckle up as we investigate the captivating areas of use wherein SPC Flooring assumes the center spotlight!
SPC Flooring: The All-Purpose Wonder
SPC (Stone Polymer Composite) is a flooring innovation that was created to combine elegance and practicality.
Ability to Outlast Titans
SPC flooring is a durable investment since it can survive the test of time. Your floors will remain immaculate for years thanks to its robust core, which resists deterioration.
Beauty Elegance
For people who value finer things, SPC provides a feast of options with its wide variety of designs, textures, and finishes. SPC has the aesthetic to complement any design goal, whether it is modern simplicity or rustic charm.
Royalty with Low Maintenance
Its impenetrable surface scoffs at spills, stains, and scratches. Your floor will once again be immaculate with a fast sweep and mop. SPC has mastered the art of easiness, so you don't have to worry about high-maintenance maintenance.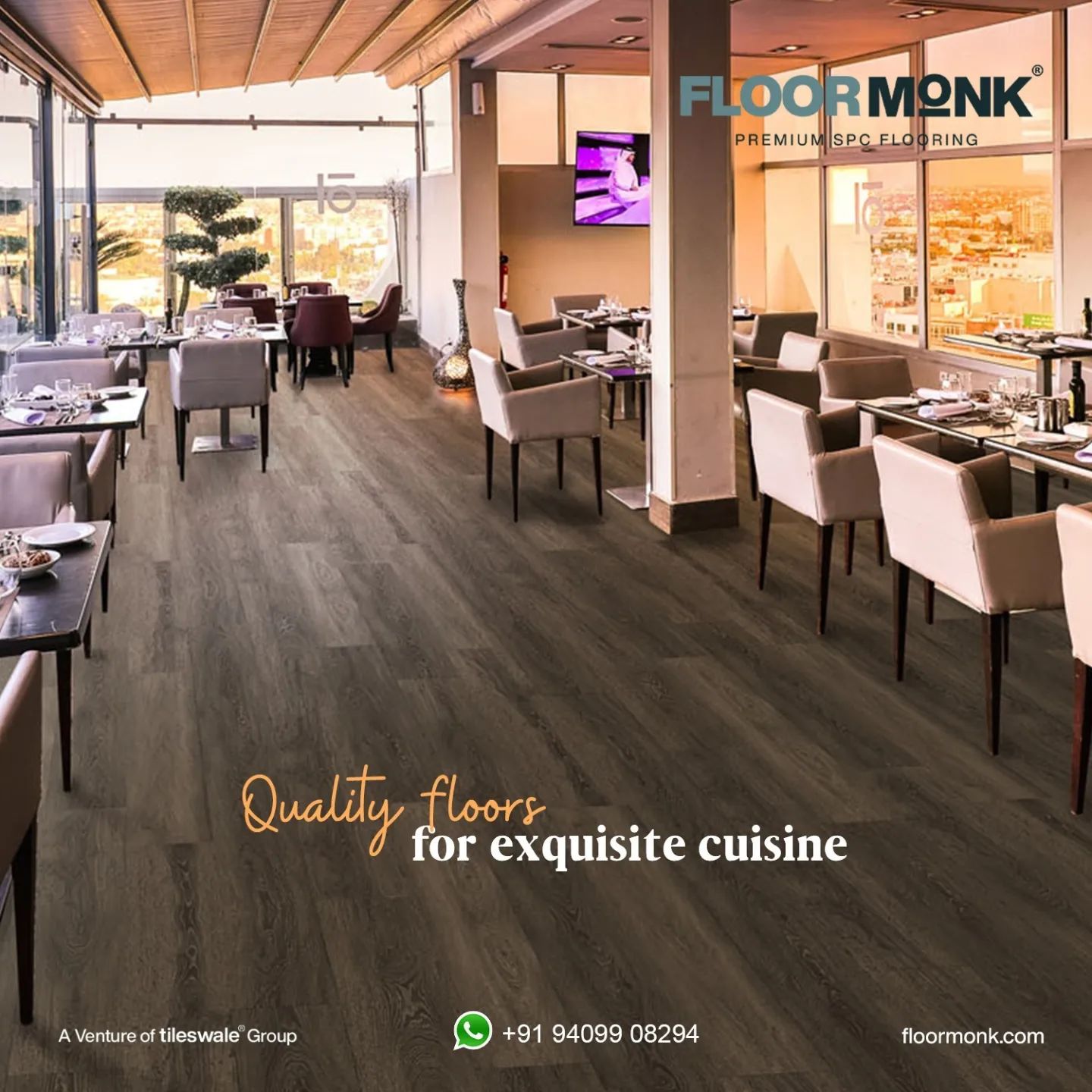 Soundless Wonder
In the midst of the everyday commotion, serenity and quiet are valuable things. With its ability to absorb sound, SPC flooring makes sure peace and quiet reign. The only sound in your well-insulated home will be the beautiful silence. No more tap-tap-tap of heels or clatter of dishes.
Comfort in Every Step
The underfoot comfort of SPC is a revelation. It is a nice companion on chilly mornings because of its warm and padded surface. Leave the chilly flooring behind and welcome warm toes.
Eco-Friendly Edge
SPC is a blessing for individuals who care about the environment. It is a choice that is safe for the environment and you because it is produced with materials free of hazardous chemicals.
It truly lives up to the description of "all-purpose wonder" when it comes to the flooring revolution it symbolizes.
Offices: Where Elegance Meets Functionality
In the hustle and bustle of office life, SPC flooring emerges as the unsung hero. Its remarkable durability and aesthetic charm make it a top choice for a variety of office spaces, from the corner office to the communal work floor. Here's why SPC flooring is the go-to option for offices:
Director's Cabin: Exuding sophistication, SPC flooring lends an air of elegance to the director's cabin. But it's not just about looks; it's about the long game. The director can enjoy the plush feel underfoot while knowing that SPC can withstand the daily foot traffic and even those accidental coffee spills.
Conference Rooms: In the heart of important discussions, SPC steals the show. Its sleek appearance complements modern decor, but its resilience is where it truly shines. As people gather for brainstorming sessions or client presentations, SPC flooring silently handles it all.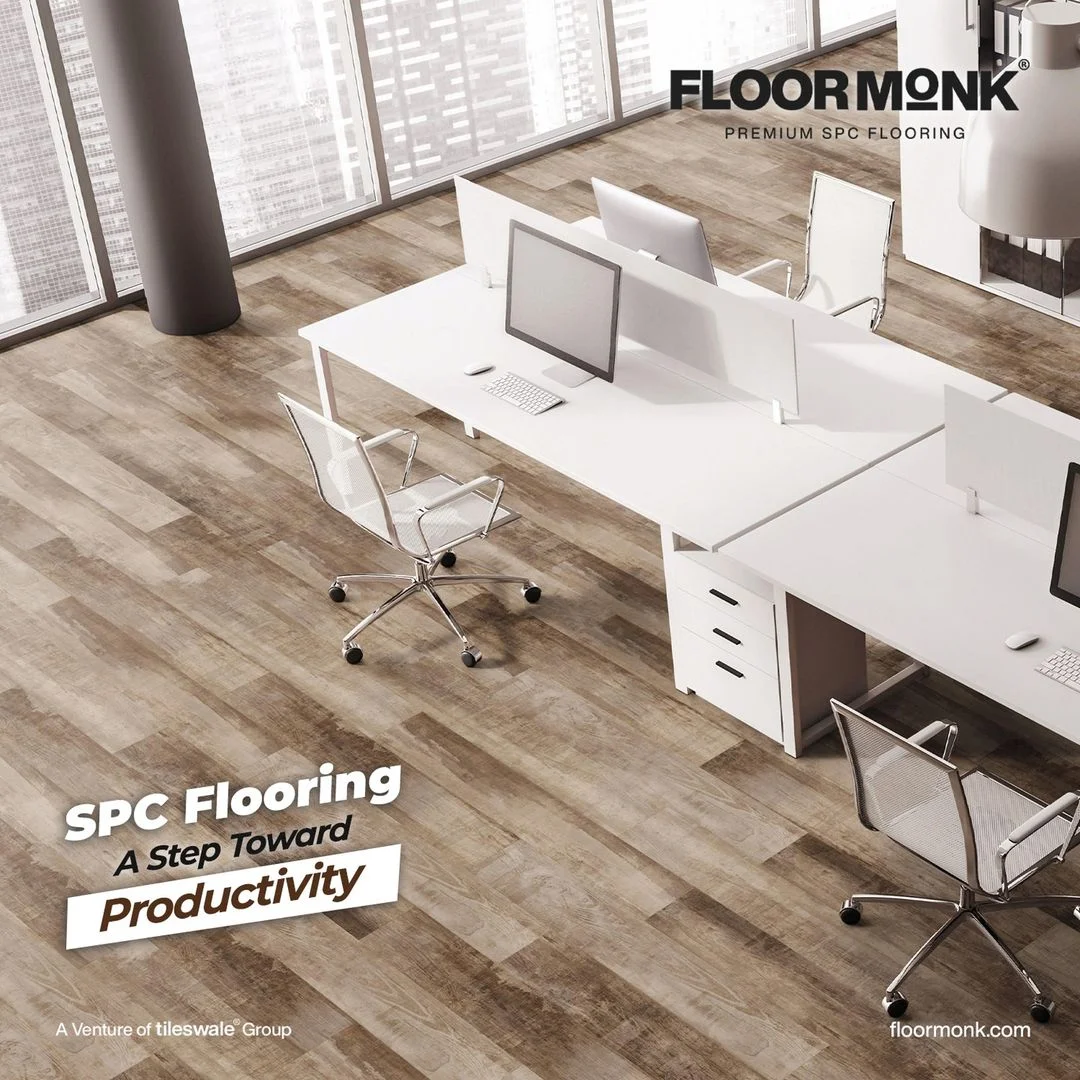 Reception Zones: First impressions are crucial, and SPC ensures a lasting one. The glossy finish reflects professionalism, and its easy upkeep keeps the reception area looking impeccable. Clients and visitors can't help but notice the attention to detail.
Waiting Spaces: SPC's waiting spaces flawlessly combine comfort and design. Because it is durable and inviting to walk on, the softness underfoot begs relaxation and will keep its appeal even in the face of regular traffic.
Office Pantry: SPC's stain resistance makes it impossible for office pantry spills and stains to penetrate. The simplicity of cleanups makes it possible for workers to relax and enjoy their lunch.
Work Floor: SPC offers a strong basis here, where productivity takes center stage. Its tough construction withstands everyday commotion and provides a cozy office for everyone.
In conclusion, SPC flooring is more than just flooring; it's an investment in beauty and use that makes offices into places where each step reflects style and professionalism.
Residential Bliss with SPC
SPC flooring emerges as the uncontested victor for residential areas. It's a lifestyle improvement rather than just a flooring decision. Here's why homeowners are smitten with this multifaceted marvel:
Luxury living room: Families relax and socialize in the living room. SPC flooring provides a difficult-to-match fusion of beauty and comfort. It turns every living space into a cozy haven with its gorgeous graphics and textured textures.
Kitchen Confidence: Kitchens are notorious for spills and splashes, but SPC laughs in the face of stains. It's like having a superhero for your kitchen floor. Coffee spills, sauce splatters – wipe them away without a trace.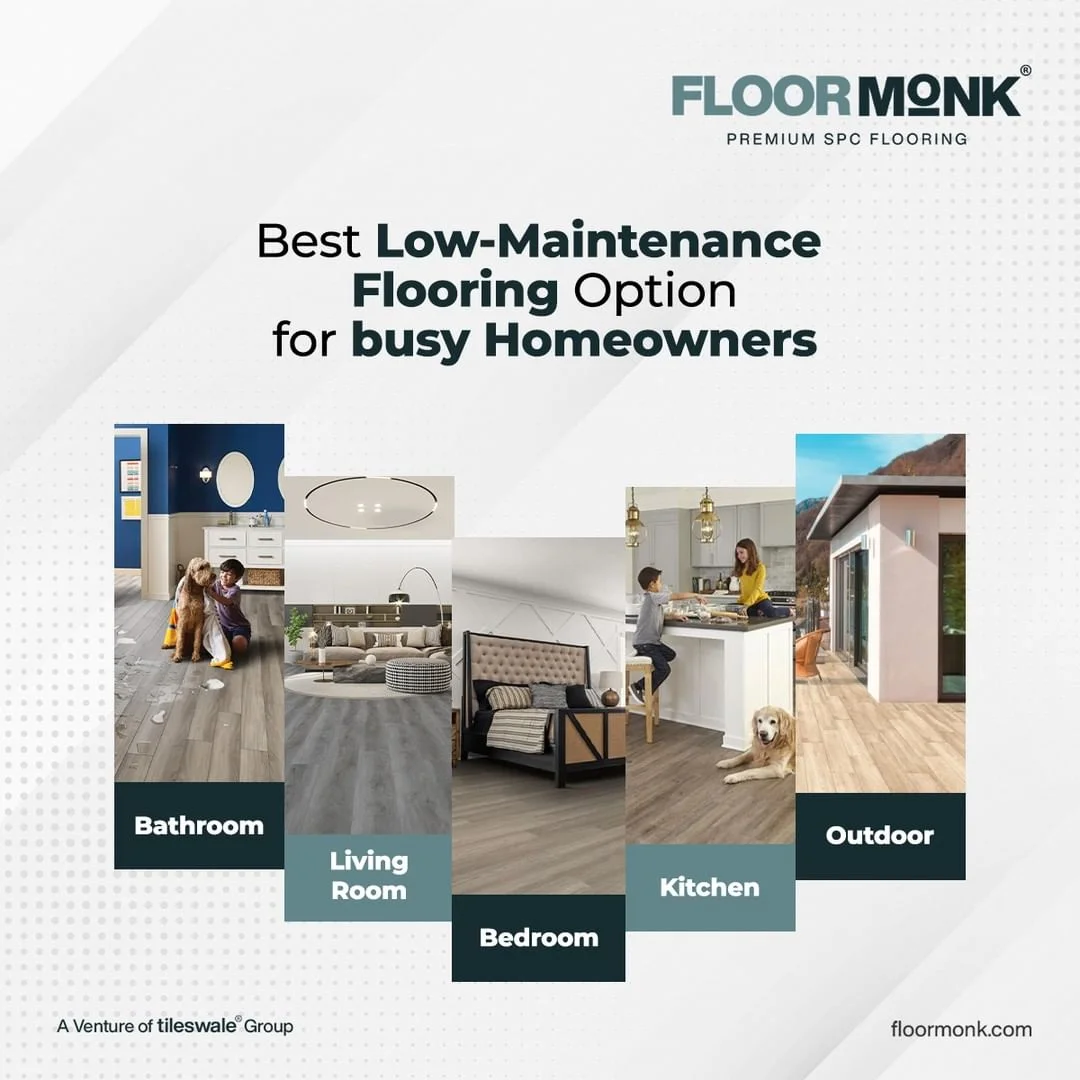 Bedroom Beauty: SPC flooring doesn't just look good; it feels good too. Imagine waking up and stepping onto soft, warm flooring. It's like a gentle morning hug for your feet.
Nursery: SPC provides the specialized attention that nurseries require. The surface is waterproof and simple to clean, making it ideal for those cute but messy accidents. It's simply playtime; no concerns.
Dining Delight: Dining spaces should be stylish and useful. SPC flooring integrates the two. Enjoy your meal on a gorgeous, stain-resistant surface.
Bathrooms: SPC excels in bathrooms since it is waterproof. Step out of the shower onto a sleek and secure floor.
It's the DIY flooring option that turns residences into dream homes because of its flawless installation and low maintenance upkeep. Discover the magic of SPC and reach new heights with your living space.
Elevating Guest Experiences in Hospitality
SPC flooring is unmatched in the hospitality industry for its excellent fusion of endurance and aesthetics. Here are some examples of how SPC enriches visitor experiences, from opulent hotel rooms to busy cafeterias:
Hotel Rooms: SPC flooring exudes elegance when comfort and refinement converge. Customers enjoy the luxurious materials' tactile quality, and the hotel staff appreciates how simple it is to maintain each room so that it is always ready for guests.
Lobbies: SPC makes sure that first impressions are memorable because they last a lifetime. A hotel's entryway is made more grandiose with gorgeous SPC designs. Even in the face of constant foot traffic from eager travelers, the red carpet never ages.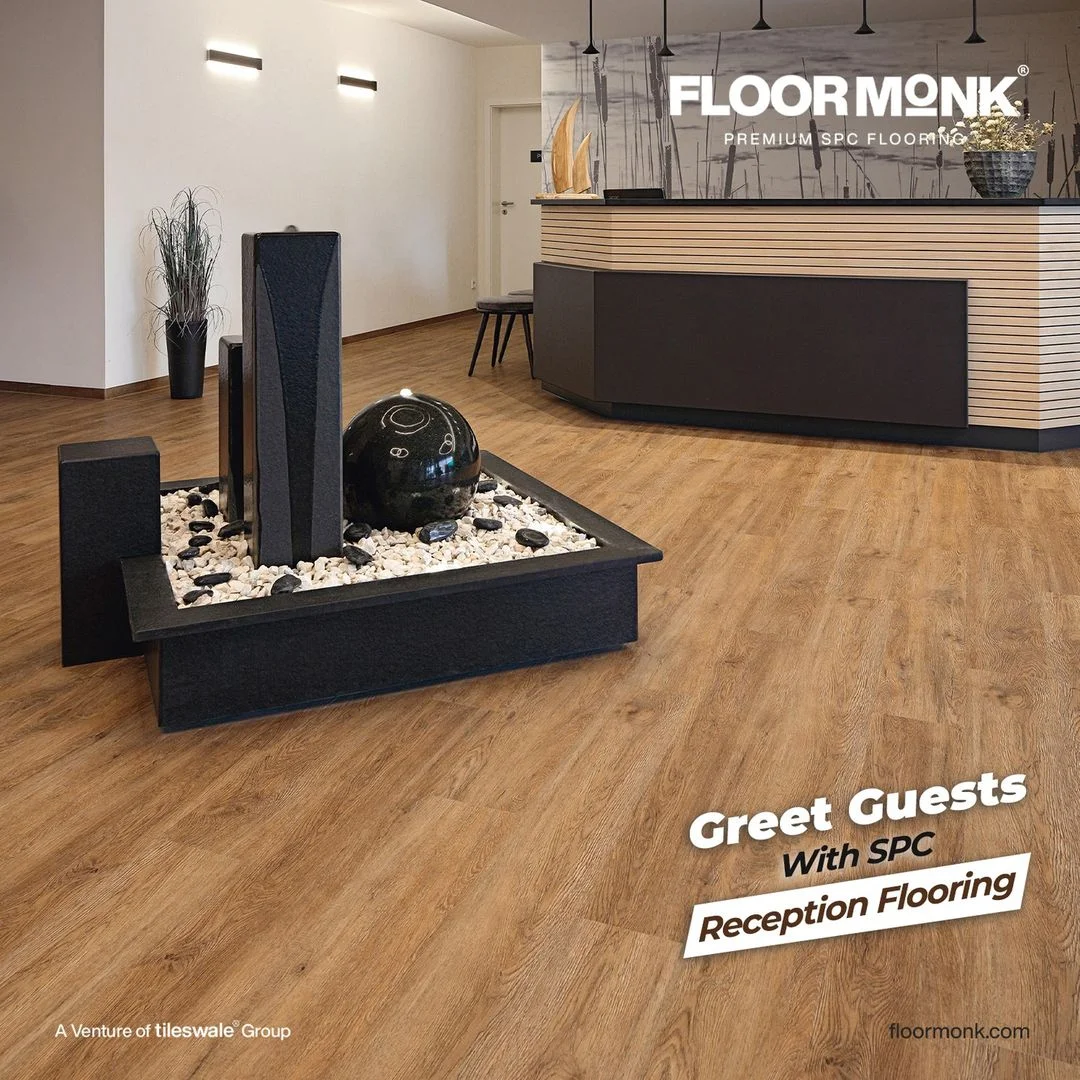 Bathrooms: SPC provides a waterproof solution that combines design and hygiene. It may serve as a canvas for anything, from contemporary, elegant designs to timeless beauty. Visitors love the neat, upscale setting.
Waiting Areas: In these circumstances, casual elegance is frequently used. SPC flooring offers a cozy, welcoming atmosphere that makes visitors feel perfectly at home while they wait for their next adventure.
Restaurants: Imagine dining in a restaurant with tasteful décor that compliments the exquisite flooring. SPC achieves that balance through a variety of techniques to cater to various gastronomic experiences. It also has the ability to withstand restaurant noise.
Cafeterias: For those quick meals, SPC's attractiveness for easy maintenance is stressed. It's an intelligent choice that perfectly balances elegance and functionality without sacrificing style.
In the hotel industry, where the value of customer satisfaction cannot be understated, SPC flooring stands out as the obvious choice since it ensures an enduring appeal that will keep clients coming back for more.
Commercial Spaces: SPC's Business
In the bustling world of commerce, SPC flooring emerges as the undisputed champion. Its adaptability knows no bounds, conquering diverse commercial realms with unmatched flair. Markdowns below detail precisely how
SPC weaves its magic in these domains:
Boutiques and Stores: Where style meets substance. SPC's sleek surface becomes the ultimate runway for fashion boutiques, accentuating the glamour of merchandise while resisting wear and tear with panache.
Shopping Malls: Endurance meets elegance. Amid the ceaseless shuffle of shoppers, SPC remains unfazed. Its robust nature thrives under the relentless footfall, delivering both aesthetics and durability in a dazzling dance of retail resilience.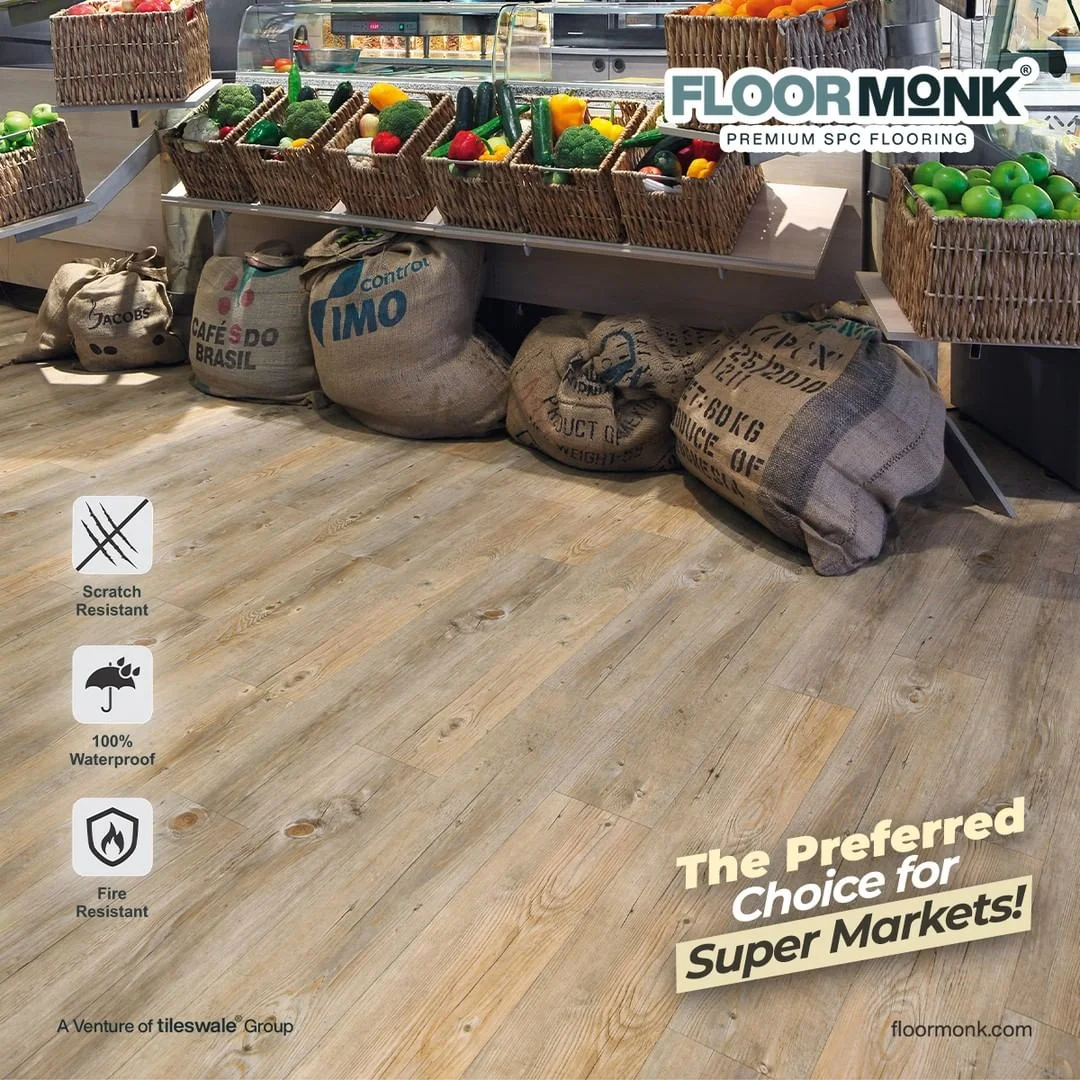 Museums: Preserving history with precision. In museums, where history whispers through every corner, SPC flooring takes center stage. It offers a protective embrace to priceless artifacts, with the resilience to endure thousands of wandering gazes.
Exhibition Centers: A grand stage for grand events. SPC's versatility shines as it transforms exhibition centers into dynamic showcases. From trade expos to art exhibits, it offers a sophisticated canvas for creativity, marrying style and practicality seamlessly.
Storage Areas: Durability in the shadows. Even in the unnoticed spaces, SPC doesn't falter. It thrives amidst storage's relentless activity, a silent sentinel against wear, moisture, and the chaos of daily operation.
It's the quiet guardian of brand image, the unsung hero of heavy foot traffic, and the canvas upon which businesses craft their success stories. With SPC, the world of commerce takes bold steps forward, secure in the knowledge that the floor beneath is as unyielding as its ambition.
Conclusion
SPC flooring is the clear winner where adaptability and toughness are concerned. It is the preferred option for a variety of locations due to its flawless fusion of elegance, toughness, and sophistication.
SPC creates masterpieces in all kinds of settings, from the quiet hallways of directors' cabins to the frantic energy of retail centers. With a reputation for quality and innovation, Floormonk is the industry leader in India and is slowly encroaching on other continents.
Your floors become tales with SPC, not simply flat surfaces. They tell the story of classy hospitality, the narrative of business efficiency, and the epic of domestic comfort. This flooring miracle promises luxury and endurance and is waterproof, stain-resistant, and scratch-proof.
SPC is your blank canvas, whether you're a store owner hoping to captivate people or a homeowner wanting a hint of richness. Step aboard SPC, join the movement and let your floors tell the tale of excellence. Floormonk, the apex of SPC flooring innovation, will elevate your home.
Top