Best SPC Flooring Manufacturer In The USA
Introduction
In a world where floors matter as much as the roofs over our heads, the USA stands tall in the realm of SPC flooring. With its growing scope and demand, finding the best SPC flooring manufacturer in the country has become a quest for perfection. Enter Floormonk, the charismatic maestro of SPC flooring. As the leading manufacturer in India, Floormonk has gracefully exported its expertise across the oceans, establishing itself as a trusted name in the USA.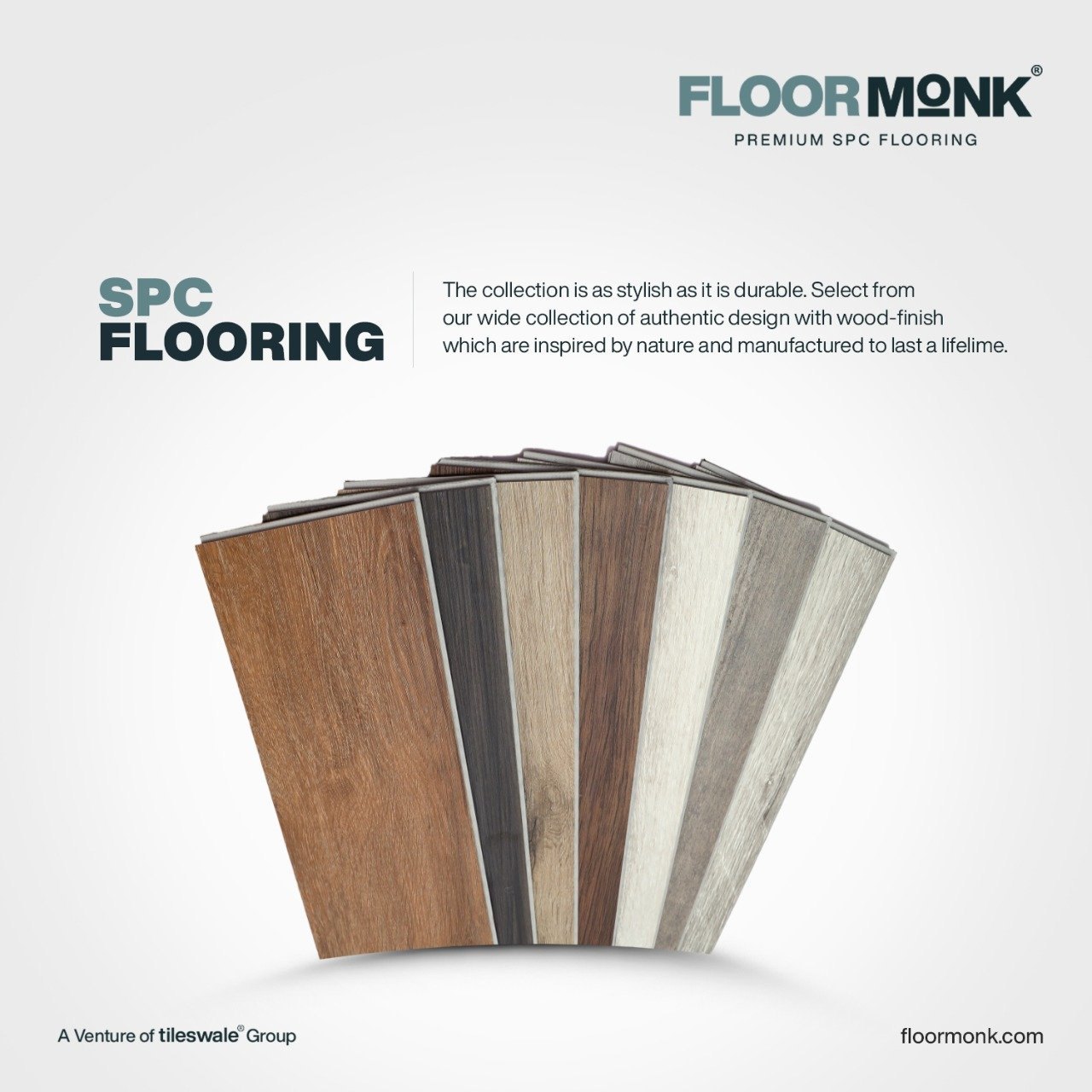 Floormonk knows how to strike the perfect chord between style and substance, from breathtaking aesthetics to unyielding durability. So, whether you're a homeowner seeking the pinnacle of elegance or a business owner yearning for floors that can weather any storm, Floormonk is here to weave its magic and turn your spaces into veritable works of art. Welcome to the enchanting world of Floormonk, where floors dance with dreams.

Understanding SPC Flooring
Definition and Benefits of SPC (Stone Plastic Composite) Flooring
SPC flooring: The superhero of the flooring world! It's tough, reliable, and oh-so-stylish. Picture a blend of natural stone and high-tech polymers, resulting in a floor that can handle anything life throws at it. But wait, there's more!
Features That Make SPC Flooring a Popular Choice
Say goodbye to worries about scratches, dents, or moisture damage. SPC flooring laughs in the face of wear and tear. Its dense core ensures unrivaled stability, making it perfect for homes with pets, kids, or even clumsy adults. Its easy installation and maintenance make it a dream come true for busy bees.
With SPC flooring, you get the best of both worlds: stunning visuals that mimic natural materials like hardwood and stone, minus the hefty price tag and maintenance hassles. It's like having a magic carpet that stays fresh and flawless, day in and day out.
Why settle for the ordinary when you can have the extraordinary? SPC flooring is the game-changer your floors deserve!

What Makes Them A Reliable SPC Flooring Manufacturer
When it comes to selecting an SPC flooring manufacturer, it's crucial to tread wisely (pun intended!). Floormonk understands the key factors that make a manufacturer stand out from the rest like a diamond in the rough. Quality and durability take center stage, ensuring your flooring can withstand all of life's unexpected dance parties. But let's not forget about style!
With a dazzling array of colors, patterns, and textures, Floormonk knows how to make your floors look as fabulous as your moves. And hey, Mother Earth deserves some love too! That's why Floormonk prides itself on environmentally-friendly practices and certifications. So, step confidently into a world where quality, style, and sustainability unite - with Floormonk as your trusted SPC flooring manufacturer. Get ready to floor everyone, quite literally!

Floormonk: A Reliable SPC Flooring Manufacturer in the USA
When it comes to SPC flooring, Floormonk strides ahead as the ultimate maestro of craftsmanship and quality. Their exceptional expertise and years of experience cemented their position as the go-to SPC flooring manufacturer in the USA. Prepare to be floored by their remarkable offerings!
Commitment to Quality and Durability: Floormonk leaves no stone unturned when it comes to delivering excellence. They source only the finest raw materials, ensuring that each plank of their SPC flooring boasts unrivaled durability. From withstanding high-traffic areas to enduring the antics of playful pets, Floormonk's flooring stands the test of time.
Extensive Design and Aesthetic Options: Boring floors? Not on Floormonk's watch! Their SPC flooring collection is a feast for the eyes. With a stunning array of colors, patterns, and textures, you can jazz up your space in a style that matches your unique taste. Oh, did we mention they offer customization too? Your imagination is the only limit!
Sustainable Practices and Certifications: Floormonk doesn't just care about your floors; they care about the planet too! Their commitment to sustainability shines through in their eco-friendly manufacturing methods and use of recycled materials. Rest assured, their flooring comes with the green seal of approval.
So, why settle for anything less when you can have the best? Choose Floormonk as your trusted SPC flooring manufacturer in the USA, and experience the perfect blend of durability, aesthetics, and environmental consciousness. Get ready to step onto a floor that's truly a work of art!

Conclusion
In a world full of flooring options, choosing the best SPC flooring manufacturer in the USA can be a daunting task. But fear not, because Floormonk is here to save the day (and your floors) with their unparalleled expertise and reliability.
When it comes to quality and durability, Floormonk doesn't monkey around. They use only the finest materials and cutting-edge manufacturing processes to ensure your SPC flooring stands the test of time. It's like having a superhero cape for your floors, ready to conquer daily wear and tear with ease.
But wait, there's more! Floormonk's design and aesthetic options will make your floors the envy of the neighborhood. From sleek modern styles to rustic charm, they've got it all. You can even customize your flooring to match your unique personality because, let's face it, your floors deserve to be as fabulous as you are.
And here's the cherry on top: Floormonk is committed to saving the planet one floor at a time. Their sustainable practices and environmental certifications ensure that you can have beautiful flooring without sacrificing Mother Earth.
So, why settle for anything less when you can have the best? Choose Floormonk, the superhero of SPC flooring, and let your floors shine like never before. Trust us, your feet will thank you.
---

Read More Articles:
1. The Difference Between SPC Flooring Vs WPC, LVP, PVC and Vinyl Flooring
2. Premium Quality SPC Flooring Manufacturer in India
Recently News & Blog
" High Performance | Low Cost | Long Lasting " SPC LVT Floor Tiles are good quality building materials made ...

Top