Easiest DIY Flooring Solution In 2023
Introduction
SPC Floors, a shining example of do-it-yourself optimism, enters the flooring industry in 2023. Remember that these are not your typical flooring. Stone Plastic Composite, often known as SPC, rises as a brilliant blend of originality and practicality making home renovating a breeze.
But what distinguishes SPC for the top flooring choice for 2023?
SPC floors may hold the secret to finding flooring built to endure a lifetime. Dents or scrapes can't interfere with your daily life any more. Did anyone else mention water resistance? SPC, who can make even your darkest nightmares tolerable, laughs at spills.
SPC is an aesthetic beauty in addition to being strong and resilient. There is a bewildering variety of patterns that expertly mirror the beauty of nature.
Prepare to set out on a DIY journey unlike any other right now. Installation of SPC is simple; no need to call in a pro.
So let's explore the world of SPC Floors in 2023 and join the group of people who have accepted the future of flooring. Here is where the road to the simplest DIY flooring solution begins!
Why use SPC Floors?
For the simplest DIY flooring solution in 2023, SPC Floorings is the go-to choice. What exactly is SPC, you might be wondering. Moreover, it goes beyond being another flooring jargon acronym. Stone Plastic Composite, or SPC, is a DIY enthusiast's fantasy since it makes assembly quite straightforward.
The peculiar layered architecture of SPC flooring, which incorporates a stone-plastic core, guarantees that it will endure the test of time without denting or scratching. This gives SPC flooring an unrivaled endurance.
The best thing about the whole DIY installation… Click, Lock and done!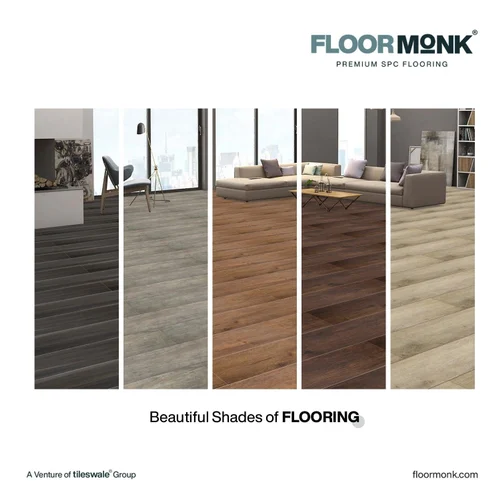 SPC Flooring & Style Options' Advantages
The Advantages of SPC Flooring
Resilience: SPC floorings excels in terms of tenacious resistance to dents or scuffs.
Waterproof: SPC is perfect againnst damp environments since it resists spillage and moisture.
Versatility in terms of appearance: SPC offers an assortment of patterns, from stone themes to wood finishes.
Personalization: Modify SPC to any distinct taste.
DIY flooring game-changer SPC flooring, which combines strength and aesthetics, will be available in 2023.
DIY Installation Tips
When it comes to DIY SPC flooring installation, preparation is key! Here's the lowdown on getting your space ready for a transformative makeover: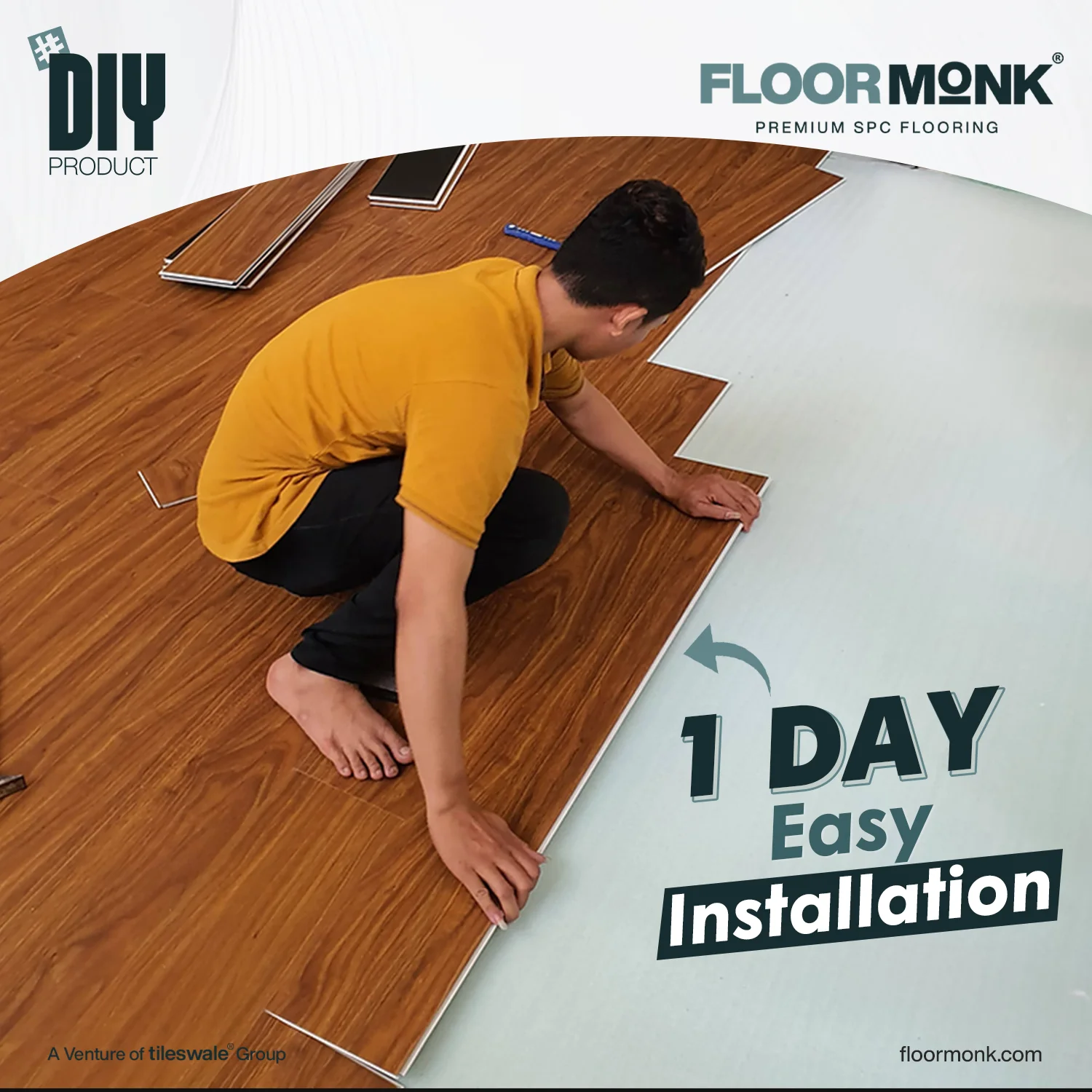 Fresh Slate, Smooth Sailing
Before diving in, make sure the subfloor is smooth, level, and without any bumps or residues. Sweep any muck and grime, and fix all imperfections which might cause unevenness. A level subfloor ensures your SPC planks fit snugly.
Measuring Twice, Cutting Once
You've heard it a thousand times, but it's gospel for DIY flooring. Measure your space not once, but twice! Accurate measurements prevent frustrating hiccups down the line. Pro tip: add 10% to your measurement for cutting and spare planks.
Now, the step-by-step guide to DIY SPC installation:
Tools of the Trade
Gather your arsenal—utility knife, measuring tape, spacers, along with a rubber mallet. The tools are like a trusty sidekick helpful in a smooth installation.
Start Wisely
Begin in edges of the room and then go all across it, staggering the seams making it look more rustic and seamless. Interlock planks by gently tapping with the rubber mallet.
Remember, the beauty of SPC floors lies not only in its durability but also in its DIY-friendliness. With the correct prep and these installation tips, you're well braced for a stunning floor transformation that'll leave your guests in awe!
Attention and Upkeep
Tending to the SPC floors upkeep is a breeze, safeguarding its stunning personality just like from the day it was installed. Here's how: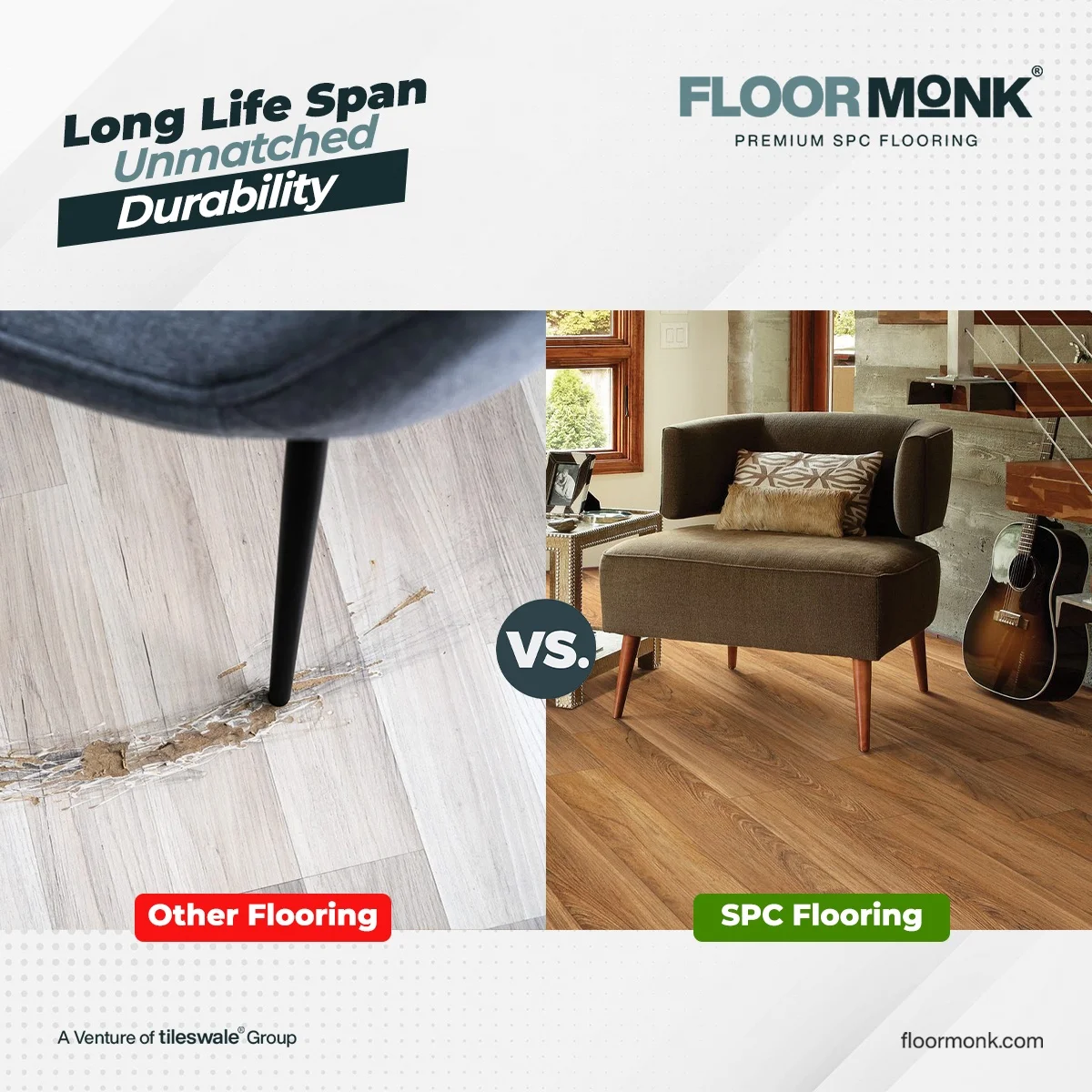 Regular Upkeep: This is imperative for your SPC floors' beauty. Clean any and all dirt and spills regularly and promptly. Mopping with a moist, not soaking wet, mop will keep it looking pristine.
Handle Spills Swiftly: Accidents happen, but with SPC, they're no big deal. Simply rub off spillage on time to avert staining. A solution blend of soft detergent and water does wonders for harder pigments.
Guard Against Scratches: SPC floors are scratch-resistant, but it's still wise to use furniture protectors and avoid dragging heavy objects.
Routine Inspection: Periodically check for any damage. If you spot any issues, address them on time to prevent further damage.
Proactive Protection: Using doormats at entries aids in preventing dust and rubble making it into your space, averting the necessity for extensive dusting.
Occasional Deep Cleaning: Choose a specialized SPC floor cleanser and stick to the manufacturer's guides to get the best results.
Keeping SPC floorings pristine is easy, keeping your space looking elegant with minimal effort.
Conclusion
SPC Floors are nothing short of a surprise in the constantly expanding world of flooring in 2023. These floors are the hidden heroes of DIY enthusiasts, a complex ballet of inventiveness and pragmatism.
SPC flooring makes a siren appeal to people looking to alter their environments seamlessly. The brightest star in the Indian market, Floormonk, emerges as the waypoint for this DIY adventure.
Floormonk's SPC flooring features a variety of designs that evoke the elegance of nature and provide opulent aesthetics and unyielding endurance. These flooring have a beguiling beauty that goes beyond surface level; it is the very essence of strength and comfort.
However, it goes beyond the actual product. The journey is what matters. Your compass in this DIY journey will be Floormonk's customer service, a beacon of knowledge. Your experience with SPC flooring will be as fluid as the planks themselves since they will guide you through the process and explain any complications.
SPC Floors in 2023 are more than simply flooring; they are an example of human creativity. Therefore, take the risk, accept the shift, and let Floormonk guide the route to your DIY success tale.
Top