How Practical Are Wood Floors In The Bathroom?
For a bathroom floor, hardwood flooring might be an attractive option. It does, so to speak, have some restrictions.
Bathroom wood flooring may be especially vulnerable to the destructive effects of moisture. The main problem that springs to mind is undoubtedly this one.
A hardwood bathroom floor may be attractive and helpful if built and maintained correctly.
Let's be honest. Wooden floors in the bathroom will undoubtedly make the space feel cozy, warm, and inviting.
Therefore, solutions are available whenever there is a justification for aesthetics, such as treatments to lessen water damage. Use these recommendations to keep your hardwood in excellent condition if you wish to install it in your bathroom.
How can bathroom wood flooring be sealed?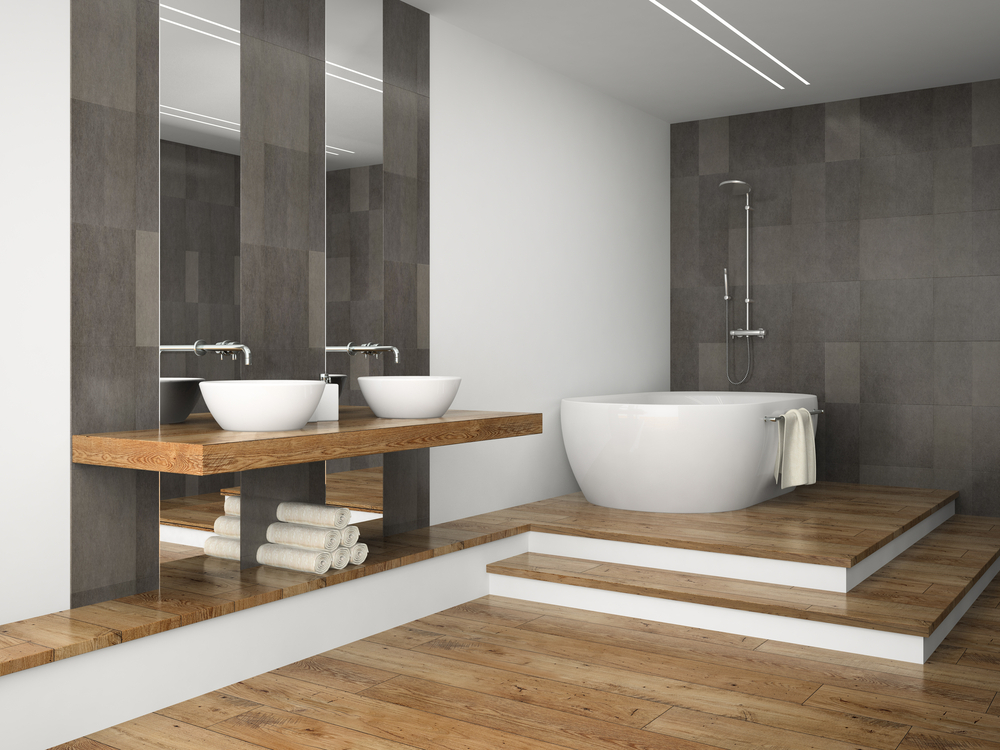 The proper sealing of your wood floor is one of the most crucial factors to consider when selecting the best wood-look tile bathroom flooring
Bathrooms are damp spaces. Therefore you must cover your floor with a waterproof material to protect it. Apply a finishing agent to put a transparent wall between wood and water. Apply a sealant with a polyurethane base numerous times.
Pay close attention to the joints and seams. You can seal the floor's edges using a specific elastic joint to prevent water from leaking.
Select wood species that barely respond to dampness. The best hardwood flooring for bathrooms is oak. Because oak can withstand humidity better than maple or beech and the grading is much quieter, water cannot enter the wood through large knots or cracks; oak is a better choice for a wood look tile bathroom floor than maple or beech.
Although you may be tempted to select treated decking wood, remember that decking is an outside surface. This indicates that it might have been handled with a potent chemical mixture that, if mounted inside, could release lethal toxins.
Choose a design incorporating tiles and a bathroom hardwood floor if you want a safer solution. You may utilize the hardwood in the remainder of the bathroom and the tiles in the most troublesome locations, such as the sinks, toilet, or shower.
Bathroom waterproofing and wood flooring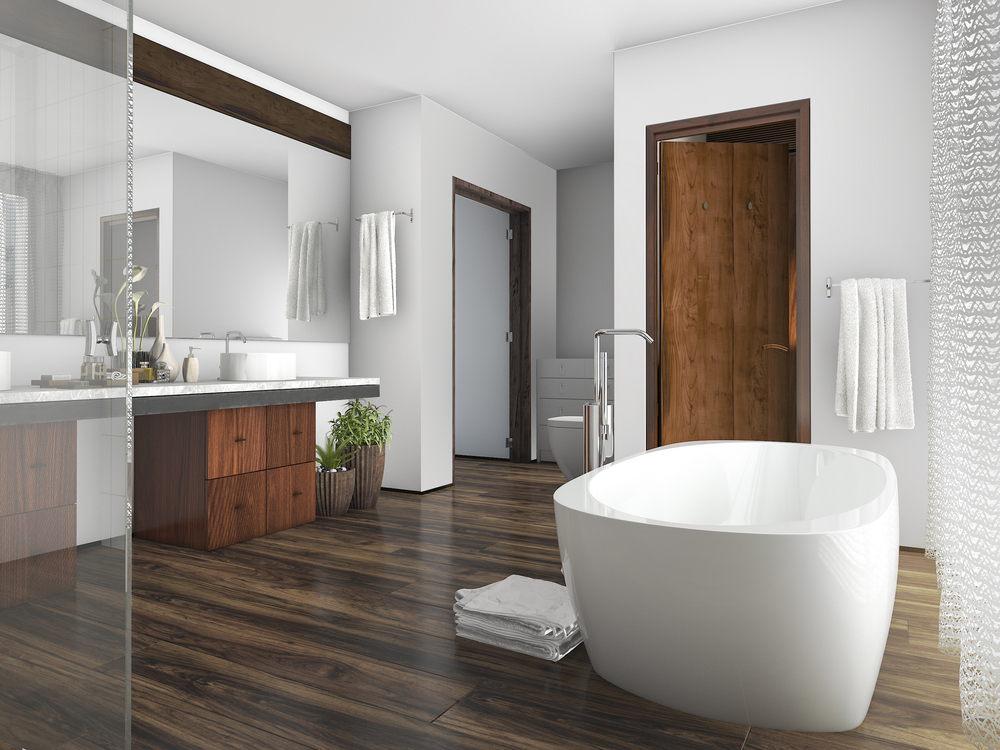 Wood is a substance that absorbs in its natural state. If improper care is not taken, it may warp, discolor, and expand. Hardwoods like traditional dark oak or walnut are far superior to softer woods like pine as building materials. Because of their dense grain, they are less absorbent and so less vulnerable to water damage.
You can use a dehydrator or moisture traps to minimize moisture and mildew on wood floors in restrooms. Using rugs to absorb spills and splashes is another smart move.
By sealing all the pores and cracks, weatherproof the wood using oil or lacquer. Oil is an excellent waterproofing compound that can penetrate the wood's surface and defend against liquids. Wood can still breathe and take in some of the humidity in the space in the interim.
Therefore, if you use these techniques to waterproof the bathroom's hardwood flooring and routinely check and replace the sealing agents, you can have the stunning bathroom of your dreams.
We'll show you one more trick, though. Regularly carry out the "water drop test," as it is termed. Therefore, test the bathroom floor by letting a few water droplets fall on it; if they stay there without soaking through, the floor is good. If the substance is quickly absorbed, think about reoiling the entire floor.
Benefits of using hardwood in the bathroom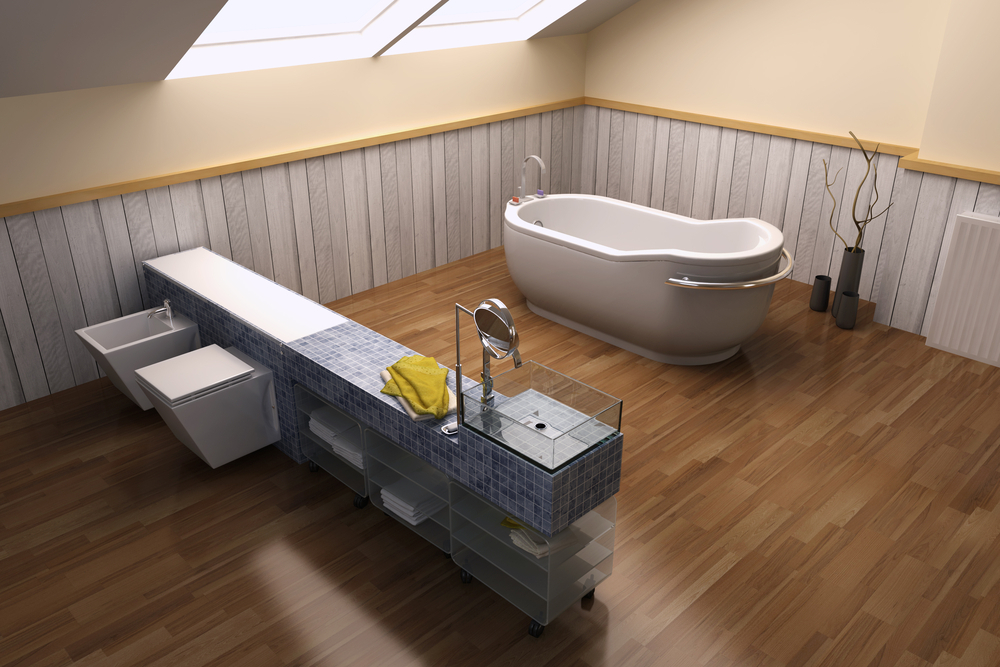 Despite being labor-intensive, hardwood bathroom flooring is still preferred due to its gorgeous appearance and robustness.
Hardwood flooring in a bathroom is much more mature and natural than wood tile bathroom or linoleum. They make a beautiful interior choice for guest bathrooms or en-suites, even though there might be better options for family bathrooms frequented by kids.
Wooden flooring complements a variety of home design themes and is highly adaptable. Your floor can survive for many years if you maintain it properly.
Bathrooms with all-white tile can frequently appear clinical and frigid. A room that often lacks warmth and texture benefits from a wooden floor. The breathtaking natural beauty and timeless charm of the oak floors in the bathroom are practically unmatched.
The bathroom may be a lovely, tranquil haven of peace. Using natural materials like oak and linen, create a bathroom that feels like a luxury spa.
Is Engineered Wood Flooring Adequate for a Bathroom?
This is why engineered wood flooring is unquestionably the best option for bathroom floors. The key is in its structure, which provides excellent stability and moisture resistance. Numerous layers of wood are glued together to create an ideal surface to form engineered timber.
Natural wood veneer is only seen on the top layer. Engineered wood flooring in bathrooms is more resistant to cupping and buckling than hardwood floors are. Additionally, it appears virtually as realistic and sophisticated as natural wood.
Bathroom Wood Floors: Maintenance Tips
Wooden floors require more maintenance and care than other bathroom flooring options because they are susceptible to water damage.
When selecting bathroom flooring, you should consider the upkeep required to keep your floor in the best possible condition.
Maintaining the plumbing in your wood floor in the bathroom is crucial so that flooding is less likely. A pedestal sink or toilet valve connections are prone to leaks, so keep an eye out for any drips or faulty pipes there.
Keep an eye out for dampness around cold water lines as well. Additionally, spills should be cleaned up as soon as they occur. Simple actions like turning off the faucets and standing on a bathmat after a shower can all help save a bathroom's hardwood floor.
Be cautious when using products that contain chemicals or are acidic in the bathroom. Keep them organized since they can eat through the waterproof layer or taint the wood.
Bathroom wood floors installation
So, can wood floors be installed in a bathroom? This entire post provides an answer to your query. Yes!
Because they require more upkeep than tiles, wood floors in bathrooms are less common than wood tile bathrooms because most people just don't want to bother. However, you can put wood floors in the restroom if you like.
The installation is quite crucial. To ensure there are no leaks or gaps, it is worthwhile to hire an expert.

For More Information :
Recently News & Blog
" High Performance | Low Cost | Long Lasting " SPC LVT Floor Tiles are good quality building materials made ...

Top