Largest Manufacturer Of Rigid Core Vinyl Flooring In India
Rigid core is a click locking floating floor, which is a perfect alternative to engineered and laminate hardwood click floors. It provides the same benefits of the stone look or realistic wooden look designs, but with the addition of waterproof and durability qualities of the luxury vinyl flooring. The rigid core vinyl flooring is one of the leading choices from our side at FloorMonk, where we have explored all the latest designs and trends, and ready to offer you with the best solution available around here.
Rigid core vinyl flooring is a popular flooring option for a variety of applications: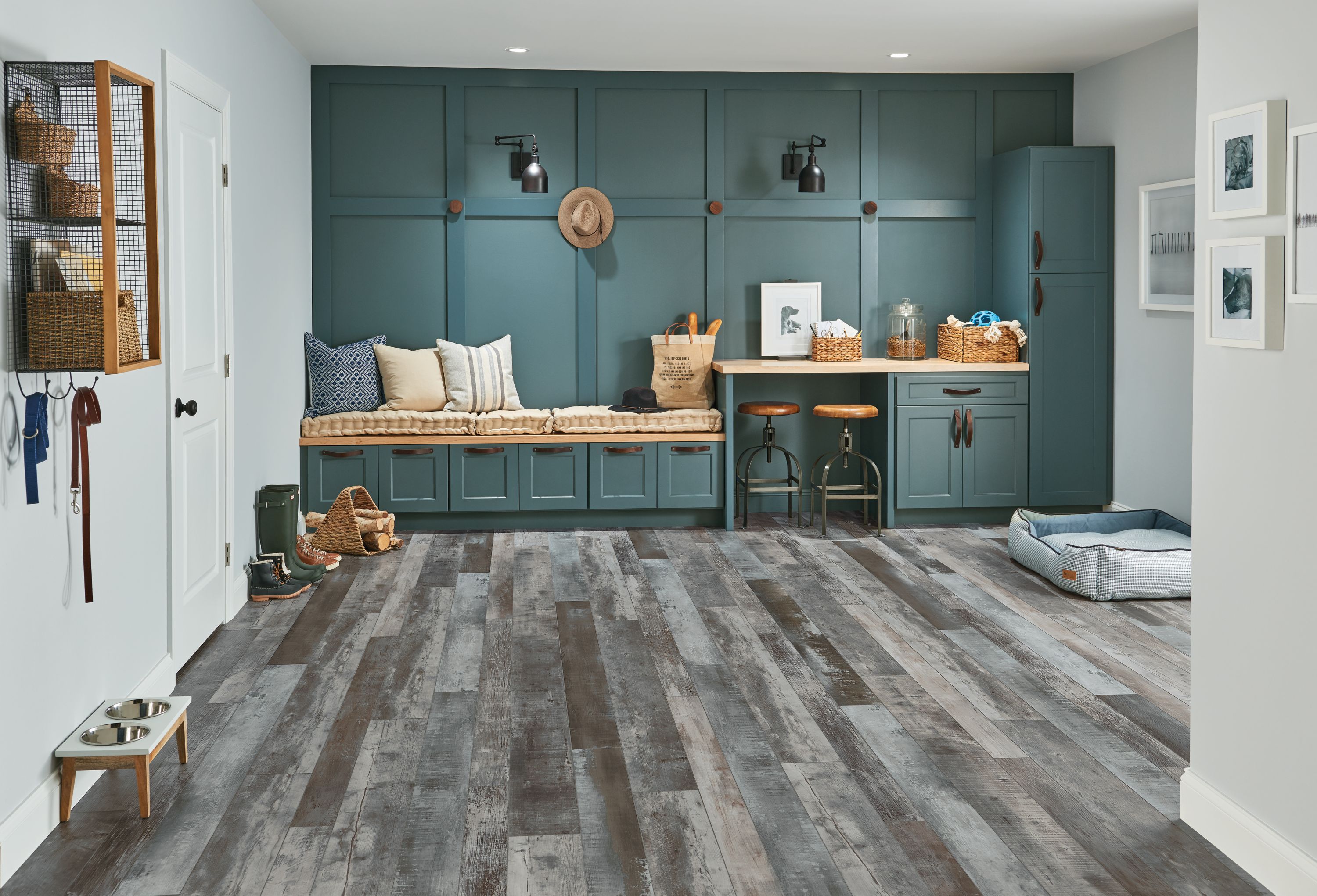 The rigid core luxury vinyl flooring is known for its own variations and qualities, which will make it a leading choice among the masses. We, at FloorMonk, would like to offer valuable rigid core flooring option to venture into.
What is Rigid Core Vinyl Flooring?
Rigid core is a click-type plank version of vinyl flooring, which will not need the use of any form of adhesive to work with. It is quickly becoming one of the leading choices among homeowners.
These are some of the budget-friendly LifeProof rigid core luxury vinyl flooring options available in wide range of styles and realistically get to mimic the look of both tile and hardwood.
These flooring options are 100% waterproof, comfortable under the foot and also easy for you to maintain.
They are the easiest when it comes to installation with its tongue and groove system and floating installation mechanism. So, you can install the floors on your own without a secondary helping hand.
What Uses Rigid Core Vinyl Flooring?
These rigid core vinyl flooring is widely used in areas, where chances of water spillage is high. It is because of the 100% waterproofing services available with these floors. So, you can use this kind of flooring in bathrooms, basements and for covering kitchen spaces. It is also a great playroom option or for areas where children can easily spill anything every now and then.
What are the Benefits of using Rigid Core Vinyl Flooring?
You cannot ignore the benefits revolving around rigid vinyl flooring these days. It is available in different styles, colors and textures to mimic the realistic look of wood or stone.
It can be installed easily because of the tongue and groove, without any need of adhesive. So, that makes it a perfect DIY project.
These floors will need less maintenance from your side, which is yet another plus point.
Being waterproof in nature, these floors can easily cover bathroom, kitchen and similar such flooring areas.
Rigid core vinyl flooring is one of the more flexible vinyl floorings:
From what we have seen so far, it is not hard to state that the rigid core flooring option is the most flexible vinyl flooring category to choose from. That's why more and more residential and commercial contractors are heading towards this option to give your space an all-new look. Our team from FloorMonk has worked with multiple such contractors and presented them with the best and top-notch quality items to venture into.
The rigid core vinyl plank is known to be 100% waterproof, and also pretty easy to maintain.
These planks are known for their comfortable underfoot. So, walking for hours on such floors won't hurt your feet.
Rigid core is also thicker when compared to the standard sheet vinyl and flexible LVT.
It means you will end up with more durability. So, that makes the floor more highly resistant to tear and wear of daily lives.
What is the difference between rigid core and luxury vinyl?
The primary difference between rigid core and luxury vinyl is that the vinyl rigid flooring will have an extruded polymer-centric base core later. It will provide a more rigid characteristic, which is hard to get from luxury vinyl.
On the other hand, rigid core is thicker than the luxury vinyl, which adds more to the durability quotient.
The rigid core flooring is more water resistant than the luxury option and can withstand the daily wear and tear of life better.
The most popular products we offer:
You have thought of investing your money in waterproof rigid core vinyl plank flooring and that is a good call. Now, it is time to focus on the most popular products you can get from our side at FloorMonk. Check out the options mentioned below for reference.
ALAMO:

It is one of the leading SPC flooring options with the UNILIN Interlocking System. It is available in 1220mm x 181mm size and comes with a thickness of 4.00mm + 1.00mm. It has a wear layer of 0.30mm.
BARI:

Another interesting example from the house of FloorMonk will be BARI. One box consists of 10 planks in total to cover a smaller to medium-sized room.
BITOLA
:
Known for a box with 10 planks in total, BITOLA is perfect if you are looking for a flooring option with a darker hue. It has a dark chocolate brown color option.
EXPRESSO:

If you are looking for a flooring option with a perfect mix of light and darker brown shade, then ESPRESSO from our store is the ultimate winner to consider.
FLUID:

Another one of the interesting option from us is FLUID. It has a lighter hue and will replicate the wooden planks in the best possible manner.
Why we are best at manufacturing various wooden flooring?
FloorMonk is always your first and ultimate choice whenever you are aiming for the best wooden flooring option. Our Vinyl flooring planks will easily replicate the original wooden look, available within your pre-set budget plans. We offer the best planks with tongue and groove technique, which ensures that you can install the floor on your own without spending much on a secondary help.
In case you are looking for premium SPC flooring, then FloorMonk is your ultimate option.
For any query, contact us at sales@floormonk.com / +919409908294
Recently News & Blog
" High Performance | Low Cost | Long Lasting " SPC LVT Floor Tiles are good quality building materials made ...

Top