SPC Flooring- A Comprehensive Guide
SPC Flooring is one of the hottest products on the market right now and with the kind of quality, choices, and flexibility that the product offers, they are certainly the future of flooring solutions.
What is SPC Flooring?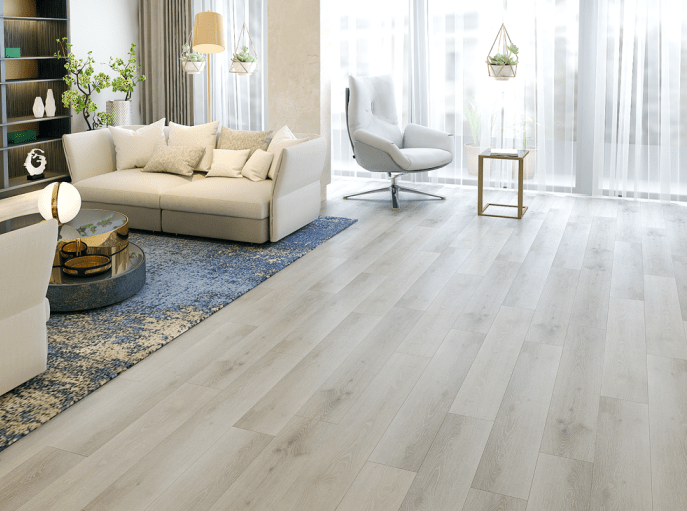 SPC refers to Stone Plastic Composite and is the most recent and revolutionary flooring product. It is a superior version of LVT, which is made of vinyl & calcium carbonate powder composites, and that's also water resistant and significantly sturdier than ordinary LVT. The body of SPC multi-layered flooring panels is made of stone dust and PVC polymer mixture, which results in a very robust dent-resistant substance that doesn't stretch and shrink with climatic factors.

One of the most notable benefits of SPC is that it is typically fitted with a click-style method, which is substantially easier for installation than regular tiles, making it a DIY homeowner's favorite. SPC Flooring in India has come a long way and manufacturing operations and the quality today is at par with the global standards, if not beyond.

Different layers of SPC flooring
SPC flooring is typically composed of the five main layers, which vary according to the requirements, and these layers of SPC flooring are categorized as under.
UV Coating
It is a coating on the top of the floor whose density is defined in microns. UV light cures it onto the top of the floors. It's also the smallest layer, yet it is crucial. The UV coating might be glossy or matte in appearance. It prevents the top from staining, repels UV rays, and keeps the flooring from fading after extended exposure to sunshine.
Wear Coating
The wear layer is positioned beneath the UV and above the Film layer. The consistency and density of the wear coating will tell you how long your flooring will survive. The thickness of the wear layer is typically linked to the warranty time provided by the maker; the denser the coating, the lengthier the guarantee term.
Film Coating
The film layer typically has a 4 mils thickness or less in thickness and is created using specialist high-definition color printing equipment. The high-quality finish layer provides the floor with a genuine hardwood or stone grainy appearance, as well as a more tailored aesthetic concerning color, design, and surface.
SPC Core
The thickest and most durable level of the SPC flooring is the SPC core. It is the floor's core, comprised of stone powders and PVC resin powders bonded and pushed along to create an impermeable surface. The thickness of the core layer affects the weight of the flooring.
Back Layer
Cork or foam back layer material may be used to provide padding to ensure a more pleasant underfoot experience. This back layer is utilized to reduce noise, retain heat, and provide general comfort. More noise suppression happens with thicker backing. More noise attenuation and impact cushioning are provided by a thicker back layer.

Pros of SPC flooring
SPC Flooring comes with a lot of pros making them one of the most popular flooring solutions in the market.
Anti-Slip
The composition of the SPC flooring makes it slip-resistant and provides the added traction for it to be installed in water-prone locations in your homes.
Water-Resistant Properties
As a water-resistant substance, well-installed SPC floors are practically flawless, making it impossible for moisture to sneak in. This intriguing feature enables it to be fitted in practically any part of your home, even the toilet and laundry space.
Easy to Install & Manage
The click mechanism is a DIY fantasy because it requires little to no tools, wait time, and work. Apart from these, managing the SPC flooring
Stain-Free
SPC Flooring is made up of different layers as explained above, and the top layer is designed specifically to be a particularly enduring surface. You do not have to worry about any stains or marks on the surface because of this layer.
High Abrasion Resistance
Given its structure and the even, reliable coating the SPC flooring is particularly abrasion resistant. This means that you can use it as a floor in just about any location without worrying about heavy objects leaving a mark on it.
Noise Reduction
These particular characteristics serve to buffer external sound, making your surroundings a pleasant and quiet location to stay. With the function of lowering interior noise, you won't have to worry about disturbing your neighbors.
Scratch Resistance
Once again, the upper layer of the SPC flooring gives them an edge over other alternatives ad they are effectively scratch-proof. The consistent attribute also ensures that your flooring retains its aesthetic value for a long period of time.

Cons of SPC flooring
Though SPC floorings are packed with features and advantages, there are still versions of the flooring which are generally avoided for the following reasons.
Cost
SPC Flooring can be costly, as compared to regular tiling solutions. However, the cost is one time and is proven to be cost-effective over its life as compared to other solutions. Also, the overall cost is pretty comparable when you consider that it, at times may be installed manually by DIY methods, saving professional installation costs.
The Choice is Narrow
With most of the manufacturers in the market, you may have a limited number of choices when it comes to SPC flooring in India. Even so, suppliers like Floormonk offers a great variety of selection which is the sum of all choices available in the market.
Scratches are a Concern
SPC flooring is scratch resistant, and the superior choice is made of vinyl & calcium carbonate powder composites, but cheaper SPC may compromise on the overall composition making them vulnerable to scratches.
Is SPC Flooring a Good Choice?
SPC flooring is a great choice if you value toughness, lifespan, and simplicity of installation. This premium vinyl floor can mimic the beauty of natural substances minus the added cost and maintenance. Modern-day technology has evolved this innovative floor solution to a peak that is in parity with any premium flooring solutions available in the market today.
Apart from all the advantages mentioned above, the flexibility to change and replace the flooring at your whim or in an event of damage gives this that extra superiority. Undoubtedly, this flooring solution has changed the demography of flooring with the latest advances and technologies.

How Much Does SPC Flooring Cost?
Admittedly, SPC costing is one of the biggest concerns of customers who are looking for an affordable flooring solution. However, when you compare the floors against natural stones or hardwoods, it's a different story altogether. SPC floor tiles price may seem expensive at first, though it is not so much when you factor in the SPC flooring installation cost
SPC floor cost is considerably lesser than wooden floors while still providing the desired natural wood-look impression. The cost of installation is similarly low. You also might minimize the cost on professionals by doing the setup yourself. Undeniably, it is a suitable option for costly wooden floors.
Also, the SPC flooring price per square foot may be considerably lesser since it is very easier to install. SPC flooring cost overall comes to be quite comparable with other tiling solutions because of the ease of installation.

Is Underlayment Required for SPC flooring?
SPC flooring often requires an underneath layer to be added initially. The underlayment requires an effective material and cork substrate is preferred and well accepted by customers who wish to utilize SPC flooring in a home or office setting.
This will increase the longevity of the investment and prevent you from needing to buy it too soon, sparing you with unnecessary expenditures. An underlayment helps to soften the surface so that it is good flooring and pleasant for your feet whilst also absorbing some of the force from foot activity. SPC flooring is aesthetically pleasing and current thanks to a new type of underlay.

Where Can SPC Flooring be used?
SPC flooring is very adaptable and easily blends in with any space, in a home, they are perfect for all rooms.
Kitchen
In a kitchen, there are many things to consider, and the SPC flooring ticks all the requirements efficiently. The flooring composition inhibits fire from advancing very quickly so you are absolutely safe in an accident, also since they are stain resistant, you can breathe easily.
Bedroom
In a space like a bedroom, the soft underlayment of the SPC floors renders them a softer quality making them a perfect fit for a cozy space.
Offices
The very many designs and aesthetic value of the SPC flooring are a signature of a professional environment.
Hospital
One of the main advantages of the SPC flooring is that it is hygienic and also in a heavy traffic area like a hospital it endures well against all kinds of movements and rush.
Restaurant
Restaurants also have distinctive requirements when it comes to flooring selection, an SPC flooring avoids spills, manages traffic well, and also
what is spc flooring made of?
SPC flooring is made of a variety of materials, including ceramic, hardwood, and laminate. It is often used in commercial or industrial settings because it offers superior performance ratings compared to other flooring types. SPC floors are resistant to water damage, Stain & Odor Resistance, Moisture Tightening Properties - Which Means They Can Retain Water And Keep Floorsmopping To A Minimum All Day Long!, and Slipperiness.
Does spc flooring expand?
Yes, SPC flooring can expand quite a bit when it first arrives at your home. This is due to the moisture vapor transmission (MVTR) process that flooring undergoes during shipping and installation. MVTR helps to keep the surface of the floor dry, minimizing condensation and mold growth.
Does SPC flooring need glue?
No, SPC flooring does not need glue. This type of flooring is installed by grinding and pressing the panels together with a machine known as a die grinder. The compressed boards are then glued together using either wood glue or epoxy adhesive.
Is SPC flooring uncomfortable?
No, SPC flooring is generally considered to be one of the most comfortable options available when it comes to carpeting. In fact, many people prefer SPC because it is lightweight and easy to vacuum. Additionally, since it's made out of recycled materials, SPC reduces environmental impact even further.
What Makes Floormonk Different?
For Floormonk, SPC flooring is their game and they have perfected it! Though the brand launched in the year 2022, the foundation was laid more than half a decade earlier and with extensive industry experience.
With a production capacity that is already exceeding 30,000 square feet and with plans to expand, the brand has been overwhelmingly accepted across the Indian market and is well received in the Global market as well.
The uncompromising product quality and the plethora of choices atop a professional and reliable service make them stand out as a brand.

Recently News & Blog
" High Performance | Low Cost | Long Lasting " SPC LVT Floor Tiles are good quality building materials made ...

Top