The Best Pet Friendly Flooring: A Complete Guide For Pet Owners
Are you a dedicated pet owner who is looking for the best flooring option to accommodate your furry family members? If so, you have come to the right place. In this comprehensive guide, we will take a look at all the flooring options that are considered "pet friendly" and how to choose the best one for your needs.
We all want our homes to be comfortable and safe spaces for our beloved pets. But what type of flooring is best for them? Carpets may seem like an obvious choice after all, they are soft and warm but it can also be a major headache when it comes to keeping them clean and free from fur and dander. Hardwood floors provide a more permanent solution with less maintenance, but can be cold and hard on ageing pet's joints.
The good news is that there are plenty of options available these days that not only meet our safety concerns as pet owners, but look great too! Let's dive in and take a closer look at some of the best pet-friendly flooring options on the market.
What to Consider When Choosing Pet Friendly Flooring
Choosing the right flooring for your pet friendly home isn't something to take lightly! The material you choose needs to be durable enough to withstand your pet's paws and claws, easy to clean, and safe for your furry family members. Here are the main things to consider when selecting the best pet friendly flooring:
Durability: Look for materials that can handle wear and tear from pets such as laminate, tile, linoleum and luxury vinyl. Consider cushion backing or a thick top layer if you're looking for softer flooring.
Low Maintenance: You'll want a floor type that's easy to clean in case of spills or accidents. Pet friendly floor materials like rubber and bamboo tend to have higher resistance against scratches, staining and odours.
Safety: Be sure to look out for flooring that won't cause allergic reactions, since cats and dogs can be sensitive too! Allergen-proof options like cork, ceramic tile or bamboo are ideal.
Best Pet Friendly Wood Flooring Options
Wood floors are a popular choice for pet owners for their classic look and durability. The best pet friendly wood flooring options are hardwoods like cherry, hickory, maple, and oak all of which have strong grains that can stand up to wear and tear from your pets' paws. Hardwoods also come with a variety of finishes like polyurethane or oil-based that prevent scratches while also providing protection from moisture. Depending on the type of wood, you may also want to consider a protective sealant to keep your floors looking their best in the long run.
If you're concerned about ongoing maintenance needs, engineered wood is another great choice. Engineered wood offers more stability than solid hardwood by fusing together multiple layers of wood beneath the surface layer. While these floors may require some light upkeep, such as an occasional sweep or mop, they offer extra protection against water spills and are less likely to warp or swell over time due to naturally-occurring moisture levels in your home.
Vinyl Flooring: An Affordable and Waterproof Choice
Vinyl flooring could be a great choice for pet owners who want a flooring option that's durable, low-maintenance, and cost effective.
Vinyl is made of synthetic materials like polyvinyl chloride (PVC) and is one of the most water-resistant options out there so you don't have to worry about spills, accidents or paw prints! Plus, if it's damaged, it can easily be patched up. And these days, vinyl is even available in a wide range of colours and styles including wood grains, tile patterns, and other designs so you can create your own unique look.
Here are some things to keep in mind when deciding if vinyl flooring is right for your pet:
Some types of vinyl have pliable layers on top that can rip or tear easily from claws; choose thicker options for more durability.
Make sure the seams between each piece of vinyl are tight if nails or paw nails can get in between them, they may cause warping over time.
Vinyl isn't very good at absorbing sound, so if you have an active pup who loves running around the house this might not be the best choice for you!

SPC Flooring: Why It's Considered the Best Pet Friendly Flooring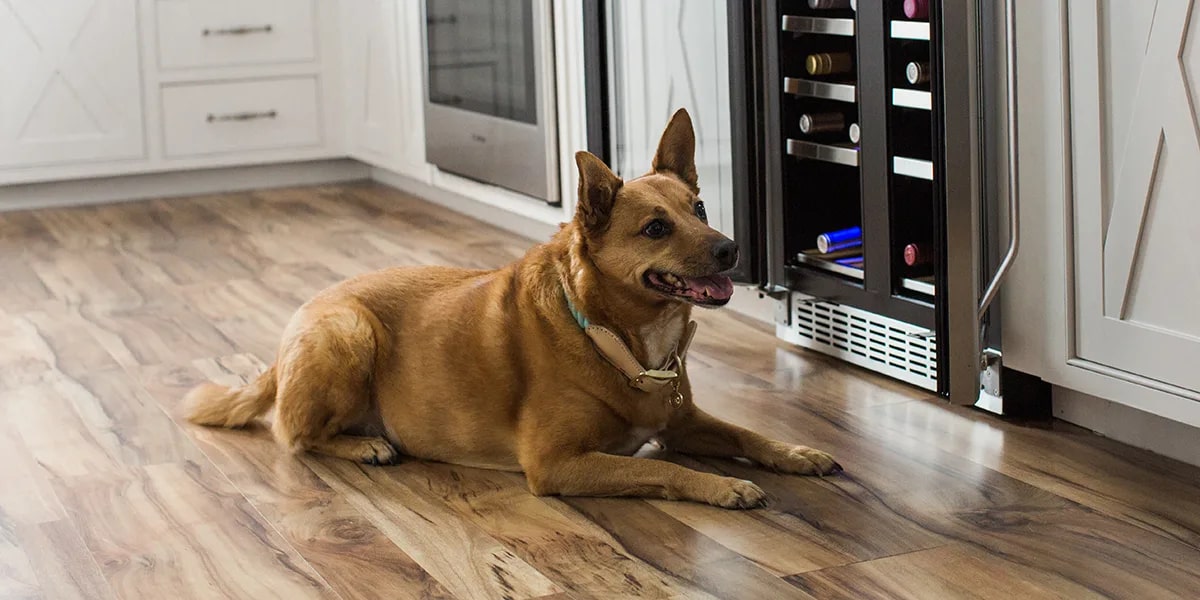 If you are looking for the best pet-friendly flooring, you may have heard about SPC flooring. But what is it and why is it such a great choice?
SPC stands for Stone Polymer Composite and it offers many benefits that make it ideal for pet owners. It's water-resistant, scratch-resistant, and durable, so you don't have to worry about your pet's claws causing any damage. It also doesn't absorb any moisture which makes cleaning up after your pet a breeze.
Another great thing about SPC flooring is that it's eco-friendly. It's made from recycled stone dust, limestone powder, and stabilisers which means it has a much smaller carbon footprint than traditional hardwood or carpeting. Plus, its manufacturing process requires very little energy resulting in minimal environmental impact.
On top of all that, SPC flooring comes in a variety of styles and colours so you can find the perfect look for your home. Whether you want something classic or something bold there is an option that fits your style perfectly. It also feels great underfoot so your pets will love walking on it and your family will too!
Popular Stone Flooring for Homes With Pets
When it comes to the best pet friendly flooring, natural stone is a great option for pet owners. But you may be wondering why you should choose stone over other materials?
Here's why:
Durable and Easy to Clean
Stone flooring is incredibly durable, which means it won't scratch or dent if your pet runs around or plays fetch indoors. As an added bonus, it's also resistant to stains and easy to clean, so you won't have to worry about spot cleaning after accidents. Whether it's a spill from a water bowl or some muddy pawprints, all it takes is a quick sweep and mop with warm water to keep your stone floor looking great.
Variety of Options
One of the awesome things about stone flooring is that there are so many different choices! Whether you're looking for marble, slate, granite, limestone, or terrazzo there are plenty of options when it comes to finding the perfect style for your home. Just make sure you select one with good slip-resistance ratings so that your pet won't be slipping and sliding across the room when playing in their favourite spot.
So if you're looking for a durable and easy-to-maintain option for your home that can cope with all of your pet's adventures stone flooring might just be the perfect choice for you!
Other Pet Friendly Flooring Alternatives to Consider
Maybe your budget doesn't allow you to install solid hardwood flooring, or maybe you'd prefer a different option. Whatever the case, it's important to know there are other pet-friendly flooring options available to you.
Bamboo Flooring
Bamboo flooring is one of the most popular alternative pet-friendly flooring options. It's not only esthetically pleasing, but it's also incredibly durable and easy to maintain. Most bamboo floors are treated with a protective sealant, making them more resistant to scratches and pet accidents. Plus, bamboo floors require very little in terms of cleaning and maintenance just use a damp mop and gentle detergent when needed.
Luxury Vinyl Plank (LVP) and Tile (LVT)
LVP and LVT are also popular pet-friendly flooring choices for many reasons. These materials have a waterproof layer on top that prevents spills and pet accidents from seeping into the surface of the material. This makes them incredibly easy to clean up since all you need is a broom or dry cloth! And if your pet happens to chew on them they won't be damaged because they're very tough and durable.
Cork Flooring
Cork is an often overlooked but great pet-friendly flooring option because it has natural anti-microbial properties that make it resistant to mould and mildew. Cork is soft yet durable and naturally helps absorb noise a plus for when your pets get over excited about playing! It can also help keep your home warm, making it even more comfortable for your pets in wintertime. Plus, cork comes in a variety of colours and designs so you can choose one that matches
Conclusion
Choosing pet friendly flooring can be a tricky task, but with a little research, it doesn't have to be. From spc flooring to bamboo to cork, there are plenty of options available to pet owners, depending on their budget and lifestyle. Ultimately, it's important to weigh all the options and choose the flooring that will best meet your needs, as well as those of your furry friends. So take your time and make sure you find the pet friendly flooring that's right for you.
---
Read More Article
Recently News & Blog
" High Performance | Low Cost | Long Lasting " SPC LVT Floor Tiles are good quality building materials made ...

Top