The Difference Between SPC Flooring Vs WPC, LVP, PVC And Vinyl Flooring
Whenever you are trying to improve the interior look of your place, you always think about wall colors and the furniture you need to move in. Much like giving extra thought while selecting your showpieces, you need to pay special attention to your floors. After all, it is the floor that has to bear the brunt of heavy traffic footfall.

While moving on with flooring option, vinyl flooring is the most promising choice in different parts of the world. The durability along with the rustic look of wooden flooring is something you can't compete against.
But, it can prove to be a dilemma to choose the right option, especially when the market houses so many of them. Right from SPC flooring to WPC, LPV, vinyl flooring, and PVC options, the list goes on. It is indeed important to check out all the proven options and mark their differences before you can finalize on the right one in your favor.

Each flooring option has its own version of pros and cons. Moreover, don't forget to check in with experts to learn about the floors, before moving toward the next steps. Listed below are some varied differences between SPC flooring and other options, just to be sure of the right choice to make.

SPC flooring Vs LVP flooring
LVP is the abbreviated form of Luxury Vinyl Planks. These are made using compressed vinyl layers, with a higher-resolution image laid on them. It helps to mimic the look of another material.
Planks are widely used for mimicking hardwood as the shape remains too similar to the real wooden options.
The high-resolution image of LVP allows the floor to look like virtually anything you want, like stone, tile, and more.
LVP is subject to having multiple layers, but the main one is the vinyl core. That makes the planks flexible yet durable.
Now for SPC: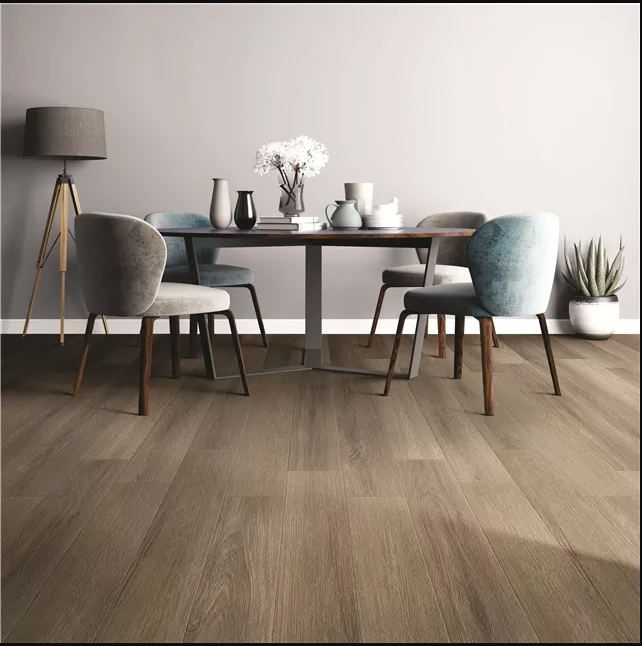 SPC or Stone Polymer Composite flooring is more or less similar to the LVP one because it also has higher resolution image and overlaid onto vinyl. It is also coated with transparent wear layer for protecting the floor from fading, stains and scratches.
However, the core material in SPC is the hybrid of compressed limestone power and plastic.
This material composition makes the plank rigid and hard and not quite soft and flexible like the LVP one.
These two materials are quite similar in so many manners. They are both scratchproof, water proof and fairly durable. You can easily install them both without any secondary help and won't need solvents or glue to cover the task. Both SPC and LVP are easier to maintain with regular sweeping to get rid of the dust, followed by a quick mop. They are both significantly cheaper as they are acting as substitute for.

The difference between SPC and LVP: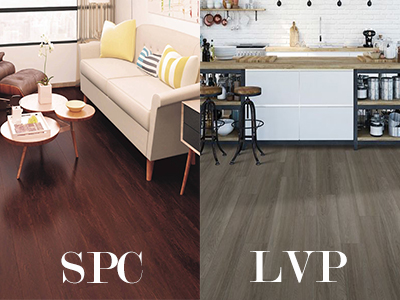 Apart from flexibility, the rigid structure of SPC holds some additional advantages. While you can install them both on any solid subfloor, LVP needs the subfloor to be leveled out completely and free from any obstruction or dent. On the other hand, the SPC helps in keeping its own shape intact, no matter what the subfloor's situation is.
So, SPC is controlled to be more durable and resistant to dents.
It can last the longest and hold onto wear for a long time.
The SPC rigidity will offer more support underfoot but the pliability of LVP will give rise to a softer and comfortable feel.
SPC is a bit thicker than LVP and the texture and look seems a bit more realistic.
SPC houses multiple advantages over LVP, but there are some disadvantages too. It is rigid and composite and that makes it a bit more expensive than vinyl. Even though both remains cost-effective compared to tile, stone or wood, LVP is a good option if you are on a tight budget plan.

SPC flooring Vs WPC flooring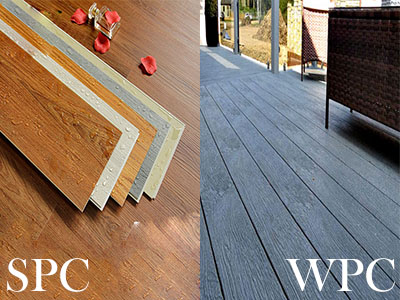 While you are looking for the best vinyl flooring option, SPC and WPC are the two terms you have come across. Learning the differences and similarities between these two options will help you to make the right choice.
Both these options are currently stated to be 100% waterproof.
SPV Vinyl is somewhat a new product in the market with signature rigid core, which remains indestructible virtually.
WPC Vinyl is known to have a gold standard for the vinyl flooring and offers a waterproof core, which is not just comfortable but functional at the same time.
It is going to be a showdown, but learning features of both will help you to make the right choice while looking for the best vinyl flooring option right now!
In terms of cost, SPC vinyl is a little bit more affordable than the WPC version. However, the WPC one is affordable than real wood or stone, but a bit more towards the expensive side when compared to SPC.
SPC is dense and rigid, so, there won't be any underfoot. SPC core can easily cold quite easily. On the other hand, you have WPC, which is less dense and holds a resilient underfoot. WPC core will retain all the warmth you are asking for.
Usage of both the options:
SPC Vinyl is widely used in basements, bathrooms, commercial spaces and kitchen. WPC can also be used in bathrooms, basements, kitchens and in different levels of your home.
When it comes to the durability check, SPC flooring is a bit more durable when compared to WPC because of the rigid core. So, in that sense, SPC is a clear winner.
Both SPC and WPC are 100% waterproof in nature. They are waterproof from above and below of the plank.
Both SPC and WPC are easy to install on your own. So, no need to invest in a secondary helping hand while working on these planks. Both of them have interlocking tongue and special groove system. That makes SPC and WPC some of the best choices if you don't want to invest money on an installer for help.

From SPC, you will expect a backing layer, SPC core, printed vinyl layer and the final wear layer. The same goes with WPC one. However, SPC is great for uneven subfloor and known for its ultra-durability. If you are looking for realistic wooden and stone look with lower maintenance and easy installation, SPC is your call!

SPC flooring Vs PVC flooring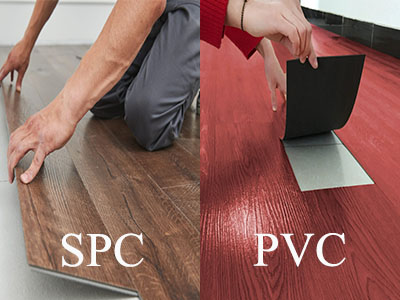 In simpler terms, SPC lock floor is one that is free completely from nails, keel and glue, and lays directly on top of the subfloor to cover the dents and scratches. On the other hand, you can try your hands in PVC flooring. It is a self-adhesive floor, also known as luxury vinyl tile, which gets coated on back of the original floor. It is coated with self-adhesive sticker before covering with a PE release film for protecting adhesive.

Whenever the floor gets installed, the release film can be peeled off instantly by hand for that convenient and quicker flooring installation. There is a slight difference between SPC and PVC options and learning about that beforehand will help in making the right choice covered.
The foot comfort is not quite the same:
The technical and production aspects of SPC floor remain relatively higher. The thickness is around 4mm, which is usually thicker than the 2mm PVC self-adhesive floor. So, in PVC, the foot feels more comfortable.
The different installation process:
You can install the SPC flooring by following the lock connection between floors. So, the paving remains fast and simple. Moreover, you won't need glue during the installation process. The worker gets to install over 100 square meters on average, every day.
Then you have the PVC self-adhesive program, which is a lot faster and simpler. The back side of the floor planks comes with pressure-sensitive adhesive. As long the protection film is on, it can be attached to the ground directly.
Difference in indoor environmental protection:
SPC floor has UV coating, pure PVC wear layer, richer colored film later and SPC polymer substrate layer. There is a soft and silent backing layer too. The substrate is made using mineral rock powder, which is mixed with polymer resin. It is then subjected to higher temperature to form stable substrate layer.

PCV, on the other hand, is not that high like SPC lock floor. Some manufacturers might use formaldehyde mixed with the glue, which is environmentally harmful. In that case, SPC takes the cake right off!
Flatness is also different:
The hardness of SPC is high and is not fixed to the ground by flue. So, the flatness needs to be high. In case the ground is not flat, it usually moves towards self-leveling.
Then the PVC floor is soft and the floor can be paved if there is a gentle undulation. After paving, the floor will rise and fall with original ground. Such higher places can result in higher wear.

SPC flooring Vs laminate flooring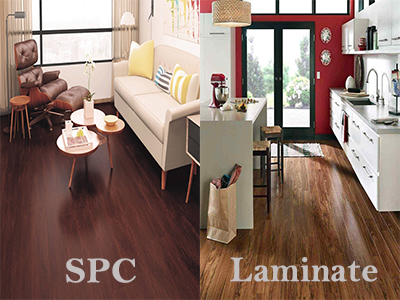 Some people might think that SPC and laminate flooring are the same, but it is far from the truth. There lies differences, which will help you to make the better choice among this lot. There is indeed a differentiation between laminate and SPC flooring visually. Apart from that, there are multiple differences that you might want to consider, in terms of functions, composition and features.
Generally speaking, both the SPC and laminate flooring consist of 4 layers, which are core, backing later, printed design layer and top with the wear layer. The difference will be in the material used for manufacturing each layer, mainly the core one.

Core material used for laminate flooring is mostly fiberboard. It is available in medium density or high density option. The higher one uses water resistant HDF as core material to boost the overall durability.
SPC flooring has solid SPC as its material for the core layer. It has higher density to make is tough and ready to sustain heavy foot fall. Some manufacturers might even add SPC in backing layer.
The quality of floor helps in determining the final cost of the floor. The price range of both SPC and laminate flooring will vary, as per the functions and quality. Apart from that, the maintenance and installation costs form a part of the final plan. It is under good care for so many years.

The rates of cheaper and lower quality laminate flooring will be as low as $1 per square foot. But, the high-end one will be around $5 per square foot. The medium ranges will be somewhat around $3 per square foot.
The traditional SPC flooring, on the other hand, can get as low as $0.50 per foot square. But for the luxury options like the LVP and LVT ones, the ranges will be anywhere between $5 and $8 per square foot.
The installation process:
It is not hard to state that the installation process of both SPC and laminate flooring is associated with wide range of suitable items. The installation process may seem simple at first, but it requires extensive skills and experience.

Laminate flooring comes with snap and lock mechanism. That makes the entire installation process a lot easier. But, if not fitted well, the edges and gaps that are sensitive to moisture will bring in major damage to floor.
Even though some find SPC suitable as a DIY project, but it is not that simple. You need some skills like spreading glue in an even manner, cutting sheet when installing and more for quality help. For click and lock mechanism of the SPC flooring, you need some extra effort.

SPC flooring Vs LVT vinyl flooring/ luxury vinyl plank flooring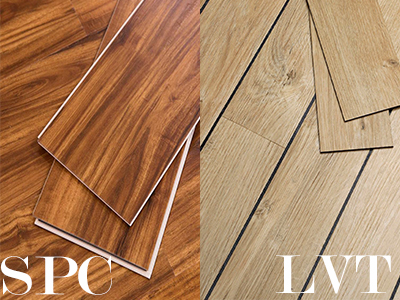 With so many vinyl products available in the market these days, it can get tough to finalize on the best one for your flooring option. Traditional luxury vinyl planks have been a great choice for consumer for ages. But, some products like the SPC vinyl are making a huge entrance in the flooring industry. In case you are torn between SPV and LVT vinyl flooring, then the key comparison, mentioned below, will help you to take the right decision later.
Get with the construction:
The traditional SPC and LVT are likely to have most of the differences because of the construction of every plank. The Vinyl floor will have simple PVC core, which is both soft and flexible. On the other hand, the SPC ones have a core made using stone and plastic composite, which will make the floors less pliable and rigid in construction.
SPC vinyl floors are known to be thicker than any standard LVT one. The SPC ones will have a range between 4mm and 6mm. Then you have the traditional LVT form, which will be around 4mm or less.
This is yet another major difference because of the core construction. A vinyl floor won't add extra support under the foot. SPC, on the other hand, will make you feel like there is an added support under your feet because of the plank thickness and its rigidity. It further prevents dents and wears and can be used for a long time.
It is true that digital imaging has improved quite a lot. So, the feel and look of every plank is quite different. SPC vinyl is known to have a more realistic look, with a denser feel and possible texture. On the other hand, the traditional LVP might have a realistic look, but they are not that advanced like the SPC one.
Both the traditional SPC and LVP vinyl can easily get installed over cement and existing floors, plywood and other options. But the traditional ones won't be forgiving with any subfloor imperfections. In case you have protrusions or dents, traditional LVT will take on the right shape. SPC vinyl won't change the shape as easily like the traditional vinyl ones.
Now for the installation:
You will come across traditional LVT planks with glue down, click lock installation or loose lay. Moreover, the SPC vinyl will have a floating clock lock, groove and tongue system, which is DIY friendly.
Traditional LVT floors are pliable and soft, which means heavier furniture can dent the material quite easily. SPC vinyl, on the other hand, will be more resilient when it is about abuse or dents. It is a major option for commercial settings because of the same reason.
SPC vinyl is one of the major affordable options within the rigid core category. But, it is still more expensive when compared to the LVT flooring over here.

SPC flooring Vs engineered hardwood flooring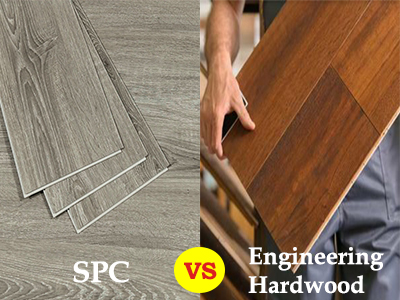 Before you make your choice, understanding the difference between SPC flooring and engineered hardwood flooring will always act in your favor. So, checking in with the right choice is always a great call to consider.
The engineered hardwood flooring consists of a wear layer, top wooden veneer and multiple plywood layers of higher density HDF board. Finally, it finishes off with the balancing backing layer.
On the other hand, you have the SPC flooring with wear layer, which is UV coated, followed by wear layer, décor film, rigid core of 100% virgin materials, and the final absorption pad.
When it comes to appearance, engineered hardwood flooring is well constructed with a wooden veneer. So, here, it features that natural wooden grain all around.
On the other hand, the SPC flooring is with an HD décor film. It helps in simulating the real wooden patterns and texture, with carpet and ceramic patterns too. With 3D printing developing in surface texturing, you will receive real wood look with various styles when it comes to SPC flooring.
Engineered hardwood floor is aluminum oxide pre-finished and it consists of multiple layer plywood. So, the durability is there, but not quite much like the SPC ones.
The SPC flooring is processed with 5S U-guard UV coating and made using 100% virgin material. That will make it perform a lot better among all the other flooring categories when it comes to impact resistance, scratch and wear resistance. It can also withstand higher traffic area.
It can get a little tricky for the engineered hardwood floors to remove scratches from pet nails or any other dents, formed from daily activities. But, that won't be a problem with SPC flooring. The double UV coating will provide the ultimate scratch protection, making it kid and pet-proof.

Why SPC flooring is best?
From the points mentioned above, it is clear to state that whether you have LVP or PVC options, SPC Flooring seems to be taking the winning cake. Mainly because of its rigid core, the SPC vinyl floors are perfectly resistant to changes in both humidity and temperature. So, such floors are highly recommended for any geographical area or region. It can widely be used for both private homes and businesses as the floors can always withstand heavy footfall. Along with that, the SPC vinyl floors can be installed on any possible surface.

In case of longevity, durability and ease of installation are the main features you are looking for in a flooring option then SPC floor is always the prime name at the top of your list. This is the finest example of luxury vinyl flooring, which can easily reproduce the look of natural materials like ceramic, tile, wood, and even stone. There is no extra cost of upkeep to maintain.

All it takes for you is to check out the manufacturing brands working on SPC flooring. You will come across so many names that make it even more overwhelming to choose the right one. But, with expert research and some credential checks, you can always come across the best name you can trust with SPC vinyl flooring.
Which is better SPC or LVP?
There is no definitive answer, as the two types of flooring have their own advantages and disadvantages. SPC flooring is often considered to be more durable, while LVP flooring can be more environmentally friendly due to its low VOC (Volatile Organic Compound) levels.

SPC flooring is also available in a wider variety of materials and colors, making it easier to personalize your home or office. However, LVP flooring tends to look better over time and has been proven to reduce noise levels. Additionally, LVP floors are resistant todamage from foot traffic and spills, which could be beneficial in high-traffic areas such as offices or homes with children.

Ultimately, it's important to consider your specific needs when selecting the right type of FloorING for your home or business.
Which is better PVC or vinyl flooring?
Vinyl flooring is often considered to be a better choice because it is more durable and easier to clean than PVC flooring. PVC can also create environmental concerns due to its high gas emissions, which may be harmful for anyone with asthma or other respiratory conditions. Additionally, vinyl floors are resistant to water damage and have a lifespan that is typically longer than that of PVC floors.
Which is more expensive SPC or WPC?
SPC flooring tends to be more expensive than WPC flooring because it is made from higher-quality materials. SPC Flooring is also designed for specific purposes, such as underfloor heating and air conditioning, which means that it requires special care and treatment. WPC Flooring is cheaper and easier to install, so it may be a better choice if you are just looking for a basic floor covering
Is LVP more expensive than LVT?
While both types of flooring are likely to cost you money, LVT flooring may be more expensive than LVP flooring. This is due to the fact that LVT flooring is made from recycled materials, which can increase its price. Additionally, LVT flooring requires less labor and time to install than LVP flooring does.
Recently News & Blog
" High Performance | Low Cost | Long Lasting " SPC LVT Floor Tiles are good quality building materials made ...

Top