The Largest Manufacturer Of SPC Vinyl Flooring
Are you searching for a durable floor with a variety of aesthetic options?
Although structurally distinct, laminate and vinyl floors share many appealing characteristics, including durability, warmth, the ability to use them with air conditioning systems such as underfloor heating, impact and shock resistance, and simplicity of installation.
Before deciding on one sort of floor over another, consider all of its advantages.
In this piece, we FLOORMONK will tell you what SPC Vinyl Flooring is and what the benefits of SPC flooring are.
What exactly is SPC flooring?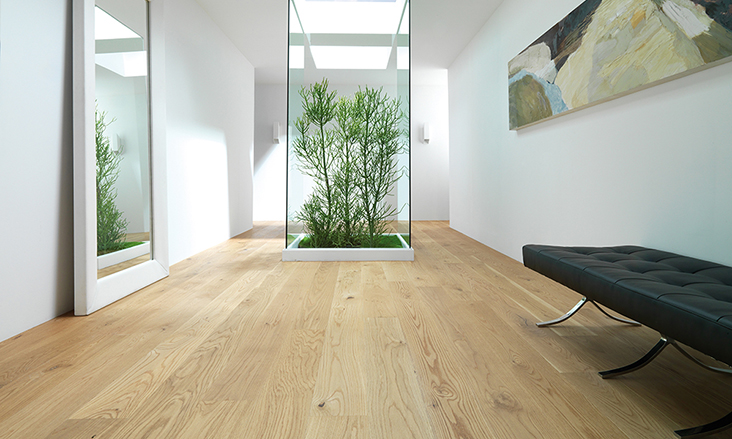 SPC vinyl flooring is one of the best options for high-traffic floors, such as those in hotels or workplaces, but it is also used in the home.
Because its core is made of limestone and stabilizers, this term, an acronym for Solid Polymer Composite, refers to its composition, which is more rigid than traditional vinyl.
SPC flooring is referred to as the "next iteration" of vinyl flooring. Furthermore, unlike wood and laminate floors, they are completely water-resistant, making them much more versatile and appropriate for all kinds of spaces, including wet rooms such as bathrooms and kitchens.
Why is SPC Vinyl Flooring so durable?
As previously stated, the secret is in its manufacturing, which combines PVC and stone powder.
As a consequence, the flooring is more resistant to temperature changes and less demanding in terms of floor planimetry than other floorings.
The arrangement of the elements also contributes to the resistance of SPC flooring.
Vinyl floors are made up of several layers, with a centre core made of high-density wood fiberboard and an overlay that provides abrasion and wear resistance.
We have additional layers of material in the case of SPC flooring. This means we have at least four layers of SPC Vinyl Flooring: a PU-protected wear layer, a vinyl (decorative film), a reinforced rigid centre, and a foam layer.
Some of FLOORMONK's Colonial SPC flooring types, such as Kingdom, include an intermediate comfort layer of elastic PVC.
Benefits of FLOORMONK's Colonial SPC vinyl floors
They are waterproof
One of the major advantages of SPC vinyl floors by L'Antic Colonial is their water resistance (they are 100% waterproof), which allows them to be installed throughout the house, including bathrooms and kitchens.
They reduce the chance of temperature-related expansion and/or contraction.
SPC flooring sticks out for its stability because its expansions and/or contractions are minimal in SPC Vinyl Flooring when compared to other types of flooring.
This feature eliminates the need for expansion joints or transition profiles between rooms during installation, resulting in greater consistency and more aesthetically pleasing finishes.
They are adaptable
SPC vinyl floors are perfectly resistant to temperature and humidity changes due to their rigid core and are recommended for any region or geographic area, as well as for both businesses and private residences.
Furthermore, this flooring can be put on any surface.
They are extremely resistant to shocks and collisions
SPC vinyl floors are extremely resistant to scratches and impacts due to the materials used in their manufacture.
SPC Vinyl Flooring advantages are also resistant to workplace chair wheels, toys, and pet traffic due to its multilayer construction.
They provide excellent insulation and privacy
SPC vinyl floors, while not their most distinguishing feature, have excellent soundproofing capabilities and are a noise-reducing option to WPC flooring, providing a quiet experience and maximum walking comfort.
Simple to set up
FLOORMONK's Colonial vinyl carpets are all simple to install. We have click-on models of SPC vinyl flooring that do not require glue or extra tools. It is possible to renovate offices or work areas in a short amount of time by simply adjusting with SPC Vinyl Flooring advantages the plank to be fitted lengthwise to the one already in position, and then striking it lightly with a rubber hammer and a block.
Furthermore, uninstalling this type of flooring is as simple, enabling it to be quickly dismantled for replacement or renovation.
They have numerous stylistic options
SPC floors have extremely realistic finishes that closely reproduce the pores and grains of materials such as wood. The best example is the FEUDAL series, which is offered in a variety of colours.
Simple to clear
SPC floors, like other types of vinyl flooring, are very hygienic because they have a sealed surface in SPC Vinyl Flooring advantages that stops bacteria from growing.
Its UV coating also improves its resistance to wear caused by direct sunlight impact.
Quality assurance and a guarantee
SPC floorboards from FLOORMONK's Colonial come with the following warranties: 5 years, 10 years, or up to 25 years of commercial and/or domestic use, valid for vinyl materials installed in rooms subject to typical wear and tear for their end-use category.
SPC flooring is an "evolution" of traditional vinyl flooring that gets excellent results in all areas and solves many problems connected with deformation, expansion, and contraction caused by sudden temperature changes.
And all of our best SPC Vinyl Flooring brands in India without sacrificing our brand's diverse aesthetic options.
If you're searching for durable pavement, this is a good option.
FAQ
1. Why should you go with SPC flooring?
One of the most significant advantages of SPC vinyl flooring is that it is fully waterproof. Unlike many of the flooring products it imitates, these planks can endure liquids and spills due to their rigid PVC core layer. The surface of SPC is smoother than that of other flooring materials such as wood or stone.
2. Where is SPC carpeting manufactured?
More than half of the world's best SPC stone plastic flooring brands are manufactured in China, including the world's best SPC Vinyl Flooring brands in India, which has been producing commercial PVC flooring for many years.
3. How long can SPC carpeting be expected to last?
As long as it is well-maintained, SPC flooring can last for up to 20 years. And if you've ever wondered how you can extend the life of your SPC flooring, here's everything you need to know.
4. Why is SPC superior to laminate?
Even though vinyl flooring is less expensive per square foot, here's the catch... In fact, laminate flooring is more challenging to maintain than SPC flooring. You should also consider the long-term maintenance and repair expenses of laminate flooring with the best SPC Vinyl Flooring brands in India.
5. Can I use SPC in the lavatory?
Unlike normal vinyl flooring and hardwood floors, SPC is completely waterproof, which contributes to its durability. It can also be placed in moist areas such as the bathroom, laundry room, and kitchen.
Unleash the grace of flooring with FLOORMONK
We are proud to be the best SPC flooring firm in Rajkot, India. We can utilize cutting-edge technology to design and bring the latest SPC flooring to your place that can make an aura of wooden and natural flooring which makes you feel like to live in heaven. With a low-cost budget amount, you can have the latest and best quality flooring at your place that will last long.
We are an ISO-certified firm, so you can trust our services. If you want SPC flooring at your place, feel free to call us at 9409908194 or mail at sales@floormonk.com or see our page https://floormonk.com/. We will be happy to deliver you the best SPC flooring services.
---
Article Last Updated: 17 March 2023
---
Read More Articles:
1. How practical are wood floors in the bathroom
2. 8 reasons why SPC flooring is better than ceramic tile
3. 7 Quintessential Wood Floor Patterns for Your Place
Recently News & Blog
" High Performance | Low Cost | Long Lasting " SPC LVT Floor Tiles are good quality building materials made ...

Top