The Ultimate Guide To Vinyl Flooring
What Is Vinyl Flooring? The Ultimate Guide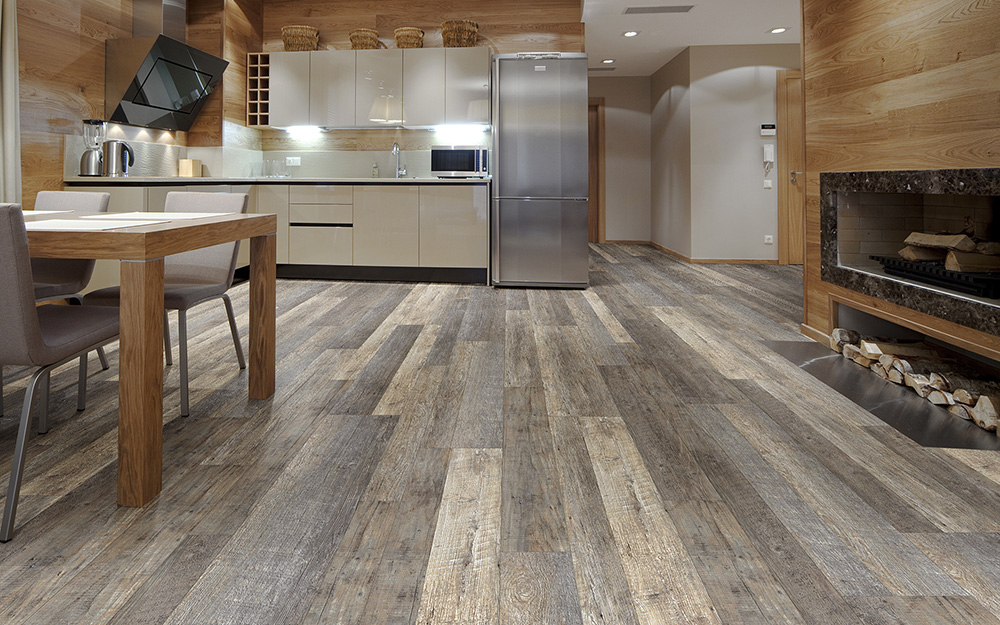 Vinyl is a synthesized flooring surface that is long-lasting, reasonably priced, and simple to install. Due to its adaptability, durability in damp areas, and resemblance to solid hardwood flooring and stone tiling, Vinyl flooring in tiles and plank forms are growing in popularity.
Vinyl flooring is a solution made of numerous layers of various substances fused combined to create a floor surface that is incredibly resilient, useful, and reasonably priced. Luxury Vinyl Tiles (LVT), Luxury Vinyl Planks (LVP), and vinyl rolls are the 3 primary vinyl flooring types. Although LVT, LVP, and vinyl rolls are all formed of the same elements, they are built uniquely to achieve distinct results. For instance, some of the best vinyl plank flooring layouts are perfect for recreating real hardwood.
In India, the vinyl flooring solutions have improved over the years and presently the quality is very much at the global level. About Floormonk, the leading manufacturer of premium Vinyl and Spc flooring – it is one of the premier brands in the market with top-notch quality.
You will understand more about vinyl flooring further in this article.

The Type of Vinyl Flooring
There are different type of Vinyl Flooring and each has its own set of advantages. These vinyl flooring types offer wide characteristics which make them such a popular choice in the market today.
Be it waterproof vinyl flooring or the quality to resist stains and scratches, these types of flooring are used widely for both aesthetic and functional purposes. Vinyl click flooring is easy to install and can actually resemble wooden designs and even textures for a rich appeal.
At Floormonk, you are certain to get the best vinyl plank flooring including the finest selection of vinyl wood flooring solutions. But before we get to that, here are the different types of vinyl floorings:
Luxury Vinyl Planks
Large, thin vinyl plank flooring called luxury vinyl plank (LVP) is made to resemble the most well-liked types of wooden floors. Compared to sheet vinyl, the luxury vinyl plank flooring is denser and more robust, which contributes to its durability and resistance to abrasion.
The majority of LVP flooring is made of strong PVC that has been covered with a pattern layer to give them a realistic wooden appearance.
Waterproof vinyl plank flooring is ideal for places like bathrooms, utility rooms, and guestrooms where spillage and stains can be readily cleaned up.
Luxury Vinyl Tiles
Luxury vinyl tiles (LVT) are made in a process that is greatly identical to that of LVP, however, it is designed to resemble ceramic, porcelain, or natural stones.
Similar to LVP, these vinyl floor tiles also contain a thicker vinyl layer that increases its durability and rigidity with patterns and textures to produce remarkably lifelike images. LVT flooring is ideal for restrooms, cellars, kitchens, and other areas since it is incredibly strong and watertight.
The luxury vinyl tile will stay immaculate and is long-lasting if you use a floor cleanser made specifically for vinyl floors on a routine basis.
LVT click flooring is easier to install and the maintenance is perhaps the most hassle-free, a routine cleaning ensures a lot less of a slipping danger than conventional stones and tiles floors. Luxury vinyl tile flooring is a more sensible alternative to other tiling solutions because of the mentioned uses and advantages, along with many others.
Vinyl Sheet
For several years, vinyl sheets have been a well-liked option for floors due to their impermeable qualities and low price.
Contemporary technology has made it possible for vinyl sheets to advance significantly with regard to aesthetic appeal compared to vinyl sheets of yesteryear. When compared to the price of hardwood and natural stone flooring, vinyl sheet flooring or sheet vinyl, as it is called sometimes, can replicate its genuine appearance and is considerably simpler to apply.
Vinyl sheet is a fantastic alternative for creative studios, ballrooms, garages, and much more since it is quite simple to clean up stains and dirt.

Installation Guide and Cost for Vinyl Flooring
One of the simplest floors to lay is vinyl flooring. Irrespective of the variety of vinyl floors you select, there are some preparations you need to ensure to guarantee a successful installation
Make sure that the ground is level, dried, and cleaned.
To allow your vinyl floor to acclimate to the room's temperatures, take it from its packing and leave it there for a minimum of 24 hours before installing it.
To make things easier for you, we've included all of these specifics in a step-by-step guide below.
A Step-by-Step Guide to Installing Vinyl Flooring
For LVT & LVP
LVT may be installed in a number of methods, but one of the fastest and simplest is to employ the click mechanism.
The click setup feature of Floormonk solutions enables two quick and flexible installation techniques:
Angle-locking placement is made possible by the ability to attach planks or tiles at an inclination along both their shorter and longer sides.
Push-down: In this technique, the vinyl tiles or planks are tapped firmly with the small end of a rubber mallet.
For Vinyl Sheets
Vinyl sheets can be installed in 3 different methods. Your choice of option and the dimensions of the space will both influence the installation technique you select.
Full loose lay - Spread your vinyl floor completely loosely over the subfloor. The sheet must then be unrolled and trimmed to fit. This works especially well in smaller spaces.
Half-Loose Lay - You can use double-sided duct tape to attach the flooring throughout the space for a half-loose lay. This approach is suggested for medium regions measuring 12 to 25 sqm.
Fully Glued - This technique, which uses a water-based spraying glue, is advised for big surfaces larger than 25 sqm.

Installation Costs for Vinyl Flooring
Vinyl flooring costs may vary depending upon the quality and the brand of the solutions. Also, the vinyl flooring installation cost relies on how much you are comfortable doing it on your own, or if you wish to choose someone professional.

Vinyl Plank Installation Cost – The material costs for LVP usually cost between Rs. 140 to Rs. 220 per Sq. ft and the Labor charges may also range between Rs. 150 to 240 per sq. ft.
Vinyl Tiles Installation Cost – The costs for LVTs are similar to LVPs and range in a similar bracket.
Vinyl Sheet Installation Cost – The material costs for Vinyl sheets range from Rs. 80 to 150 per sq. ft., and the Labor charge may cost between Rs. 80 to Rs. 150 as well.

How to Clean and Care for Luxury Vinyl Flooring
Cleaning and caring for flooring has never been this easy as it is with vinyl flooring.
Cleaning
Vinyl flooring is remarkably simple to keep clean and care for.
A simple cleaning schedule is necessary for sanitizing vinyl floors. The best way to clean vinyl floors is to make it a routine habit. Regular care cleaning of your vinyl floor only requires swiping or vacuuming. Clean vinyl flooring with a broom or vacuum to remove dust prevent the accumulation of dust and grime and helps maintain your flooring.
To preserve your flooring and keep it more sanitary and at its finest, use mild cleaners to eliminate dust from both luxury vinyl tiles and vinyl sheets as part of a quick, delicate cleaning of vinyl plank flooring.
Caring
It is always a sensible thing to care for your vinyl flooring so that it doesn't need to be cleaned, or even replaced.
Under the legs of heavy objects, chairs, and tables, attach protective padding.
Avoid placing items with rubber soles on a vinyl floor since they could create stains.
To keep clean-up simpler and to avoid filth or dirt from being taken inside, use doormats at the entryways.
Use organic, gentle, or mild chemicals to cleanse your flooring.
Maintain a safe separation/height between hot objects like burners, charcoal, or flames and your vinyl floor.

How to Remove Scratches from Vinyl Flooring?
Simple scratches in vinyl plank flooring may be quickly, easily, and affordably repaired. It is simple to buff away scuffs and bring back the flooring's natural luster with a few simple tools.
The floor has to be thoroughly cleaned before any repairs can be performed. The floors must be cleaned of any visible filth.
Use a clean towel and high-quality paste wax to rub the wax in circular motions into the damage.
After carefully removing any surplus wax from the vinyl encircling the region, completely cover the damage with wax.
After waxing, use a clean towel to gently wipe the surface to provide a uniform and smooth finish.
You can also use a quality concealer and rub it in the scratch to hide it completely.

The Pros and Cons of Vinyl Flooring
Much like any other flooring solution, Vinyl flooring is not without its ups and downs. You must weigh in on the pros and cons detailed below to make up your choice.
Pros
Fiberglass reinforced wear layer that is 100% waterproof and anti-static
DIY installation over the majority of subfloors
Every vinyl flooring has a natural-looking wood quality
Requires a simple cleaning and maintaining routine
Vinyl flooring is the most cost-effective and very inexpensive
Cons
One of the downsides of glued-down vinyl floorings is that if it is sealed firmly it is hard to detach
The ability to be pierced by exceedingly sharp items makes it vulnerable
It looks like hardwood by doesn't feel like real wood.
Unable to disintegrate and hence, not eco-friendly
Which is better laminate or vinyl floors?
There is no definitive answer to this question as it depends on a number of factors, including the type of flooring that you are looking for and your lifestyle. Some people prefer laminate floors because they are easy to clean and look more contemporary than vinyl floors. Others may be drawn to the durability and resistance to fading that vinyl floors provide. Ultimately, it is important to consult with an expert like a contractor or home inspector before making a decision about which type of flooring is best for you.
What is the best vinyl flooring thickness?
There is no one answer to this question since the best vinyl flooring thickness depends on a number of factors, including the type of flooring you are installing, your specific needs and requirements, and the size and condition of your floors. However, generally speaking, thicker vinyl flooring will be more durable and last longer than thinner vinyl flooring.
Additionally, thicker vinyl floors can resist water damage better than thinner ones because they can't easily absorb moisture. This makes them a good choice if you live in an area that experiences frequent flooding or heavy rains. On the other hand, thinner vinyl may not be as resistant to liquids but are still likely to last longer than traditional carpet or wood floors. So while thickness isn't necessarily indicative of quality or durability when it comes to Vinyl Floor Tile , choosing something thick should always be a top priority when selecting a new floor material!
Why choose vinyl flooring?
Vinyl flooring is a popular choice for many reasons. It's durable, easy to maintain, and highly resistant to stains and bacteria. Additionally, vinyl is an affordable option that doesn't require frequent replacement like other types of flooring. In fact, most vinyl floors can last up to 20 years without requiring any repairs or replacements!
Another great thing about vinyl floors is that they are exceptionally quiet when walking on them. This makes them ideal for homes with children or pets who may be scared of loud noises. Vinyl also has a glossy finish that looks elegant and high-end even after years of wear and tear.
So why not give vinyl flooring a try? You might just be surprised at how wonderful it feels to walk on soft sheets of rubberized plastic!
Why put underlay under vinyl flooring?
Underlay is used to protect vinyl flooring from moisture and weather damage. It also provides a cushion that helps reduce noise and rubbing when people walk or move around on the floor. This can be important for elderly residents who are prone to falls, as well as children who might be roughhousing. Underlay also prevents dirt, dust, and other debris from accumulating on the surface of vinyl floors which could lead to staining or discoloration.
Why to Choose Floormonk?
Floormonk is a pioneer in the Indian flooring circuit with its different types of flooring like SPC, WPC, LVT, LVP, and sheet vinyl flooring solutions. The wide selection and the brand authority which they have established in just a matter of a year, have contributed to its ascent beyond Indian shores and entered a competitive global market.
The extensive industry experience, backed by the state-of-the-art facility and the unflinching commitment to quality and towards the customer has earned them a reputation of being the finest vinyl flooring manufacturer in India.
Recently News & Blog
" High Performance | Low Cost | Long Lasting " SPC LVT Floor Tiles are good quality building materials made ...

Top