Vinyl Flooring Vs Laminate Flooring
Whenever it comes to long-lasting, cost-effective, and visually appealing flooring for the house that you could install manually, two alternatives generally come to mind: laminate flooring and vinyl flooring. These are indeed extremely simple to fix, cost approximately as much, and are visually appealing. They appear to be identical from far off and upon the first glimpse.
However, both alternatives are different. Although vinyl and laminate flooring are similar in many ways, the key distinctions may impact which kind of flooring to choose and how you install it.
Vinyl Flooring
Vinyl flooring is typically made up of 4 tiers of substances. The very initial, or base layer is the foundation surface, which is often constructed of cork or polyurethane. It is intended to act as a substrate for vinyl floors, eliminating the need to lay additional materials ahead of placing the vinyl flooring. It also serves as a cushioning to allow moving on the surface very pleasant, as well as an acoustic shield to prevent noises away.
Laminate Flooring
Laminate flooring is an artificial substance, as opposed to traditional flooring alternatives such as hardwood, marble, or granite. It is composed of 4 strands as well: the wear layer which is the top-most protective covering, the design layer, the base layer, and the foundation, which are glued altogether during the lamination step. As one of the most cost-effective alternatives, it is surprisingly sturdy. It may imitate the appearance of other costly flooring materials such as wooden floors, tiles, or natural stones due to the décor surface.
The capacity of any form of floor to withstand water is determined by its composition. Because vinyl floors are entirely artificial, they may be installed anyplace. Due to constrained water resistance, laminate flooring may only be laid in certain regions.
In appearance and application, laminate flooring is fairly similar to luxury vinyl boards. The key distinction is its base is comprised of woody wastes bound with polymers. The imprinted pattern layer is protected by a strong, clear plastic wearing layer on the upper surface. Laminate flooring boards vary in thickness from 6 mm to 12 mm.
Built-in substrate, such as planks vinyl, is a possibility. However, it's an alternative that's becoming increasingly common on laminate surfaces as a DIY (do-it-yourself) option.

Difference Between Vinyl Flooring & Laminate Flooring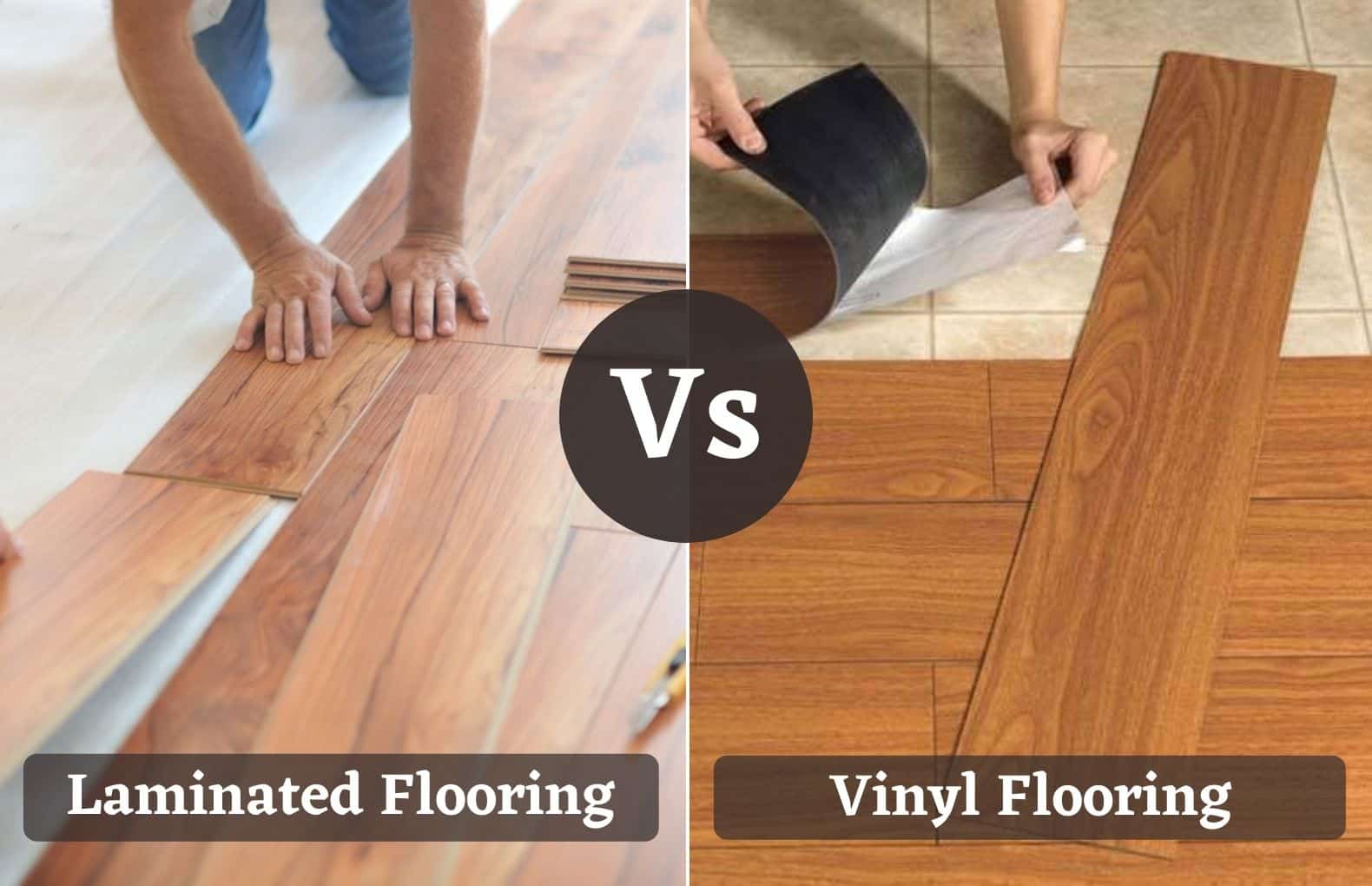 Although similar in some respect, Laminate and Vinyl flooring have distinct features that differ them from each other. Below we have pitched Vinyl flooring vs Laminate flooring detailing down to the smallest details to help you make up your mind about what suits best for you.
The Look
As a modern flooring solution both alternatives are stunningly beautiful and a great surface choice.
Vinyl Flooring
The latest most modern technologies have made it possible for Vinyl flooring to imitate life-like appearances. Especially with luxury vinyl planks, the in-depth imprinting is perfect as a hardwood floor substitute. Under the hard, transparent wear layer of higher-quality vinyl plank and tile flooring is an image or picture layer. This picture is often of a wood species (such as oak, maple, or hickory) or, less frequently, stone.
Though, user experience has suggested that the life-like appearance may not be consistent with every vinyl floor alternative. Older and less expensive sheet and tile vinyl flooring is created using a rotogravure method (similar to a cylindrical printing press) and finished with a transparent wear layer.
Laminate Flooring
Laminate flooring provides a profound, lifelike 3-D imprint on its design layer, featuring authentic pictures of the depicted material—wood, ceramics, or stones. For achieving the illusion of natural hardwood or stones, all laminate flooring employs a high-definition digital overlay behind the translucent wear layer.
The look of laminate flooring is its most notable attribute. Laminate flooring comes in virtually any shades, variety, and variation of hardwoods and stone floors: hand-scraped, earthy, salvaged lumber, different tones, organic finishing, bleached, different lengths, and many more.
The Maintenance
Though they are both similarly easier to maintain there is still a basic difference between the two:
Vinyl Flooring
The best thing about the vinyl floor surface is how simple it can be to maintain and wipe down. Vinyl flooring in excellent condition may be wet-mopped and cleaned aggressively using appropriate washing agents if needed.
Laminate Flooring
Laminate flooring should be maintained using dry means initially, for instance, dry cloth or brush. If you must wet-clean laminate flooring, just use a moist mop that is nearly dry when touched.
The Toughness
Each customer looks for a long-lasting option and hence the toughness or resilience of a floor is so much more important for you to consider before spending on flooring.
Vinyl Flooring
Some types of floor surfaces may split apart into separate layers. Thin plank vinyl flooring provides better resistance to moisture than thicker, more costly vinyl flooring with something like a built-in substrate. Since the thinner floors have no tiers, it does not deform: it is a solid intact sheet of PVC. The softer substrate of larger, more costly plank floorings is the weakest element in its multilayer structure.
Furthermore, self-stick vinyl flooring panels might become loosened with time. Overall, vinyl flooring is a robust surface product that can withstand heavy traffic requirements.
Laminate Flooring
Laminate floors are long-lasting and easily maintained. Nonetheless, the multiple sections of laminate flooring may gradually delaminate with age or if subjected to moisture for an extended period of time. When the main wear surface of the laminate has been damaged or peeled, it is impossible to restore. When spalling begins, the upper coatings start to flake away, allowing water to penetrate the bottom layers.
The Installation
Vinyl Flooring
Vinyl flooring is simple for installation. It may be bonded or laid loose to the underfloor. Bonded vinyl flooring is available in slabs or panels that are bonded with liquefied adhesives or a self-stick glue base. A floating floor is another name for loose-lay vinyl flooring: Slabs are joined side by side though not directly onto the underfloor.
Laminate Flooring
Every laminate flooring is a floating layer. Planks, like vinyl flooring, connect side by side. The ground's gravity and abrasion keep it from moving. Laminate flooring, like vinyl flooring, is readily trimmed by cutting it with a knife blade and tearing it off.
The Eco Impact
Vinyl Flooring
Vinyl flooring has become more environmentally friendly in the past few years. Several vinyl flooring producers already provide materials that qualify for the LEED rating EQ4.3 for Low-Emitting Materials. Vinyl is an artificial substance that, if burnt, emits hazardous compounds. Vinyl doesn't really disintegrate in waste and is typically not recyclable.
Laminate Flooring
Many laminate flooring producers provide LEED MR4 (Recycled Material) certified goods. However, laminate flooring includes a polymer upper surface, and the melamine polymers utilized to create the base coating are not environmentally friendly because they could emit gas toxins.
Resistance to Stain
Vinyl Flooring
A translucent urethane coating gives outstanding stain protection to high-quality vinyl flooring.
Laminate Flooring
Pressure-laminated laminate floors have many strands, the top of which is a transparent aluminum oxide surface that is ideal for staining protection.
Added Property Value
Vinyl Flooring
Luxury vinyl plank floors from a quality manufacturer will add resale value to a property. Customers may frequently perceive lesser quality vinyl flooring as an added expense once they acquire the house and need to change them.
Laminate Flooring
Superior laminate floors can increase a home's market value if it is fairly fresh and in a fine state.
Heat Effect
Vinyl Flooring
Temperature, just as with any similar polymer, may harm vinyl flooring. However, the heating criteria that most vinyl floorings fulfill are frequently significantly greater (158 degrees Fahrenheit) beyond what may be expected during regular usage.
Laminate Flooring
The high-density particleboard base of laminate flooring is often unharmed by high temperatures. However, additional coatings, like the upper wear coating, can disintegrate in high temperatures. Such high temperatures, like in the case of vinyl flooring, are significantly above what is generally seen in most houses.
The Cost
Vinyl Flooring
Vinyl flooring is a very budget-friendly option as compared to hardwood floors, natural stones, or even ceramic tiles. Depending upon the quality and the needs of the customers, they may cost a bit more, for Luxury Vinyl flooring but still very much cost-effective.
Laminate Flooring
Laminate flooring is also a very cost-effective alternative for flooring and even is a bit more pocket friendly when compared with Vinyl floorings.
Vinyl and laminate floors are comparable for most domestic purposes. The majority of the decision-making elements are subjective. Be it aesthetic selections, materials, and the pricing both can outperform each other.
Moisture is the one limitation of the substitution of vinyl and laminate. Vinyl flooring easily outperforms laminate flooring for high-moisture conditions, which makes it an outstanding selection for bathrooms. However, for whole-house installs, laminate flooring usually is far more practical due to the variety of options available.
Floormonk offers a huge selection of SPC Flooring as a perfect flooring option. These floors are a blend of the finest quality and craftsmanship with the most eye-catching aesthetic. To know more, contact us now.

Which is better laminate or vinyl floors
If you are looking for an affordable and durable floor covering, vinyl may be a better choice. Vinyl is weather resistant and can last upwards of 10 years with proper care. It also eliminates the need for any special treatments or maintenance, which makes it a great option for people who are on a budget.
Laminate floors, on the other hand, can look more contemporary than traditional wood floors and often come in different colors and designs that match your home's style. They are also easier to clean since they use water instead of solvents. However, laminate floors may not last as long as vinyl because they tend to wear down faster due to foot traffic and moisture accumulation over time
What lasts longer vinyl or laminate?
Vinyl is often considered to last longer than laminate because it's less likely to suffer from peeling or discoloration. Additionally, vinyl tends to be more resistant to damage from moisture and UV light, which can cause fade and yellowing. Laminate, on the other hand, may not last as long as vinyl due to its susceptibility to water damage and wear & tear. Ultimately, it becomes important for homeowners to periodically inspect their vinyl or laminate flooring for signs of fading or wear & tear in order not prematurely end up needing replacement.
What is the most popular flooring in homes today?
Vinyl flooring is currently the most popular flooring in homes. This has been largely due to its versatility and long-term benefits. Vinyl floors are weatherproof, easy to clean, and look natural no matter what style of home you choose. Additionally, wood floors are a healthy choice for the environment because they're made from trees that were harvested sustainably.
If you're looking for a beautiful flooring option that will last forever, then Vinyl flooring may be the perfect fit for you!
Is vinyl flooring and laminate flooring the same?
Vinyl and laminate flooring are not the same. Vinyl is a thin film that is applied to the surface of your floor, while laminate floors are made out of several layers of wood or other materials that have been glued together. This type of flooring is more expensive than vinyl, but it's also easier to maintain and has a longer life expectancy than vinyl.
Recently News & Blog
" High Performance | Low Cost | Long Lasting " SPC LVT Floor Tiles are good quality building materials made ...

Top