What Do Interior Designers Need To Know About SPC Flooring?
Vinyl plank flooring has been tremendously popular across all significant commercial market groups since its introduction in the 1970s. Spectra Contract Flooring has put in over 95 million square feet of vinyl flooring nationwide since 2012 alone. There is no restriction on where you might see these planks erected, from hotels and restaurants to schools, hospitals, and more.
Furthermore, with the introduction of rigid core technology and the help of goods like SPC, vinyl plank flooring has become more dynamic and adaptable than before. Here, we'll go over what interior designers need to know about SPC flooring, how it's created, why picking SPC vinyl flooring is advantageous, and some installation advice for SPC.
What Is SPC Flooring?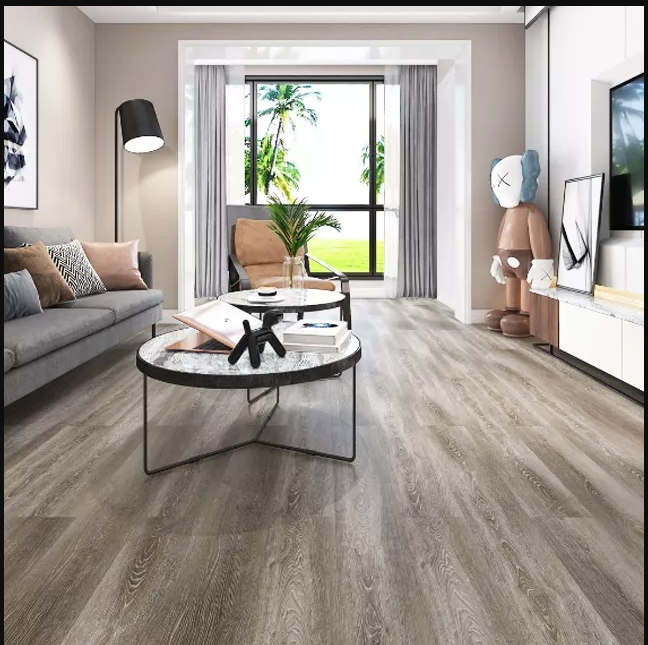 SPC, short for stone plastic composite, is created to duplicate conventional flooring materials like stone, ceramic, or wood while offering several additional practical advantages, as you'll see in the following sections of the article. SPC opens the door to a wide range of design options by utilizing realistic photographic prints and a transparent vinyl top layer.
Keep the following four layers in mind when constructing an SPC floor:
Wear Layer – This layer, which is essential to the longevity of your tiles, uses transparent coatings like aluminum oxide to prevent your floor from wearing out too quickly.
Vinyl Top Layer - Some high-end SPC click flooring varieties are produced with 3D graphics that can be fitted to precisely simulate stone, ceramic, or wood.
Rigid Core – The core layer is where your money is best spent. A high-density, stable, watertight center can be found here, giving the plank rigidity and stability.
Background Layer - This layer, also referred to as the backbone of the flooring, offers your planks more sound installation and is inherently mold and mildew resistant. There is DIY flooring too.
How Is SPC Flooring Made?
Let's look at how SPC flooring is created to comprehend it fully. The six main methods listed below are used to make SPC.
Mixing
A mixing machine is first filled with a mixture of raw materials. The raw materials are heated to 125 and 130 degrees Celsius once inside to evaporate any water vapor. The material is chilled inside the mixing machine after completion to avoid early plasticization or processing auxiliary decomposition.
Extrusion
The raw material moves from the mixing device and undergoes an extrusion procedure. In this case, temperature management is essential for proper material plasticization. The material is passed through five zones, the first two of which are the hottest (about 200 degrees Celsius), and the following three gradually calm down.
Calendaring
It is time for the material to start the calendering process after it has completely plasticized into a mold. Here, the mold is compounded into a continuous sheet using a set of heated rollers. The width and thickness of the sheet can be precisely, consistently, and consistently regulated by adjusting the rolls.
It is embossed using pressure and heat after reaching the proper thickness. A faint "tick" or a "deep" can be applied to the product's surface using engraved rollers. The scratch and scuff Top Coat will be applied following the texture application and placed in the drawer.
Drawer
To deliver the material to the cutter, the drawing machine, which uses frequency control, is directly coupled with a motor that perfectly matches the speed of the manufacturing line.
Cutter
Here, the material has been cross-cut to conform to the appropriate standard. A sensitive and precise photoelectric switch signals the cutter to ensure clean and uniform cuts.
Machine for Automatic Plate-Lifting
The automatic plate-lifting equipment will raise and stack the finished product into the packing area for pick-up once the material has been cut.
The Advantages of SPC Vinyl Flooring
Simple installation
Glue or a loose-lay floor are two simple methods for installing SPC. Modern loose-lay methods allow SPC to be used with little surface preparation. The price and duration of installing flooring can be decreased using this solution.
Waterproof
The fact that SPC click flooring is waterproof is one of its main advantages. Unlike many flooring items it imitates, these planks can survive liquids and spills because of their hard PVC core layer.
Elegant and cozy
Compared to other flooring types like wood or stone, SPC offers a softer surface. Additionally, it is quieter and more comfortable underfoot, an essential quality for many facilities.
Environmentally responsible
As many of the components utilized in its production are those of renewable products, recyclable content, and low-emitting materials, using SPC can assist your facility in achieving LEED certification.
Budget
Want inexpensive flooring that is waterproof, scratch-, stain-, and fade-resistant? Look nowhere else. SPC vinyl flooring is typically less expensive than the high-end floors it imitates, like stone or hardwood.
Maintenance
SPC is more straightforward to maintain than other high-end floorings because it never needs to be sanded or sealed. Simply take a moist mop, and you're good to go because it is entirely waterproof!
Installing SPC Flooring
When you hire our seasoned professionals to install commercial SPC floor, receive unbiased, best-value flooring solutions for your building.
Spectra Contract Flooring, including a wide range of vinyl planks, has placed nearly every business flooring. We can provide samples and assist you in choosing the finest floor based on your preferences, your facility's requirements, and your budget. There is DIY flooring too.
The subfloor needs to be leveled appropriately, cleaned, and dry before installing SPC vinyl flooring. The installation process is, after that, relatively straightforward. Tongue and groove technology is used to snap together most SPC vinyl planks easily. SPC doesn't have to be attached to the subfloor, although it can still be necessary for specific sections or spots in your facility.
Applications for SPC vinyl flooring
Here are just a few ways you can follow the trend and install SPC vinyl plank flooring in rooms like the bathroom and kitchen:
In the bathroom
To include nature in your bathroom design, return to the beloved natural look of stone and wood. You can assert a traditional rustic vibe with Oak Wood Effect SPC Vinyl bathroom floor tiles. To further the natural aesthetic, use the same colors and textures on the bathroom walls. Complement with some greenery and other organic elements for the perfect finishing touch.
Recently News & Blog
" High Performance | Low Cost | Long Lasting " SPC LVT Floor Tiles are good quality building materials made ...

Top